Behind the Scenes at the 2013 Masters Practice Rounds

Without a doubt, the back-nine on Sunday at the Masters is the most exciting part in any golf tournament and there is no better way to experience this phenomenon than at the heart of the action at the hallowed greens of Augusta. It is every golf aficionado's dream to walk with the best players in golf as they vie for the elusive Green Jacket. While the pros ultimately require great mental focus and concentration to stay on top of the leaderboard from Thursday until the final Sunday, the Practice Rounds on the other hand lets them relax and enjoy the weekend with its laid-back and casual atmosphere. From the famous par 3 competition, traditional "skipping" of tee shots over the water on the 16th and watching kids of pro golfers caddy for their dads, there are plenty of entertaining behind-the-scenes traditions that can't be missed. During the three days before official tee-off, fans get a chance to really see a different side of the players that they don't see during the heat of the tournament.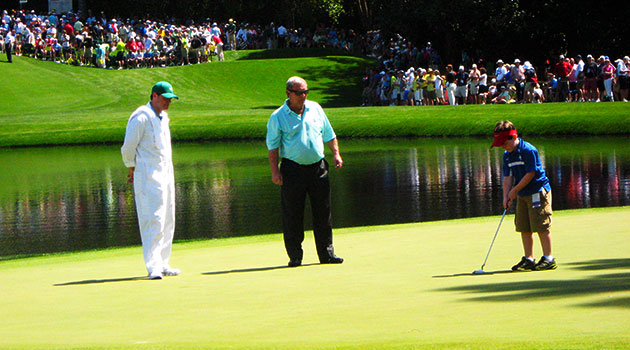 During the practice rounds, patrons get to see their golf idols relax and unwind as they smile, laugh and interact with fans that came to see them play. Pictured above, you can see Phil Mickelson enjoying his time after hitting a great shot off the tee. This rare smile might be hard to come by during the tournament, especially when the Green Jacket is on the line! The best perk for those lucky enough to get into the practice rounds – fans are actually allowed to take pictures of the golfers (a big no-no when the tournament is at play).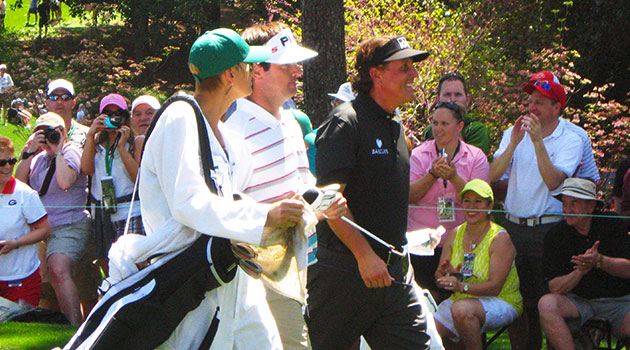 Here's an insider tip for those looking to make the most of their Masters' experience; during the practice rounds, golf enthusiasts are only allowed to ask for autographs on the Washington Road side of the clubhouse near the newly built practice facilities. If you really want to rub shoulders with the pros, make sure to wait by the practice putting green and short-game area, where the players enter and exit for a better chance to get an autograph.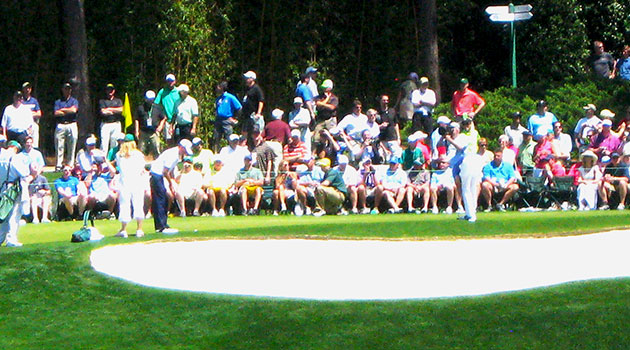 Whether you are a pro or just a fan, the game of golf requires great mental endurance. But sometimes, we tend to forget that we play it because it is fun– and the practice rounds remind us just that.
To view Kensington's exclusive tours to the 2014 Augusta Golf Tournament, visit
http://www.kensingtontours.com/tours/north-america/united-states/golf-majors