Brett On The Water: Ganges River, Conclusion

In his blog, Brett on the Water – Ganges India, Brett Rogers shares his adventure of paddling the Ganges River as an intrepid explorer and story teller. From his arrival to the bustling city of Delhi and travels to the foothills of the Himalayas to his introduction to the Ganges, Brett brings this holy river to life with the enriching experiences and new friends he gained along the way. As Brett would say, "See you on the riv!"
In Part II of his blog series, Brett finds honesty and truth in humankind when his lost phone is returned to him and shortly after starting his voyage on the Ganges begins to define India as place and an experience of a "million moments of extremes".
Who Is Brett Rogers and what's he doing on the Ganges?
Explorer in Residence, Brett Rogers, has led expeditions on the Mackenzie, Yukon and Mississippi Rivers. Over a total of 10 months, he spanned a total distance of 9,000 kilometers without burning a tank of gas. The focus of these expeditions was never about being the first, the fastest or to re-enact past expeditions. Rather, the goal has always been to capture the unforgiving experiences of the modern day journey; propelled by the compelling people, secrets and dangers encountered along the way.
Brett believes storytelling can change the world.
His latest expedition took him to the Ganges River, on a three week trip to discover the real story of India's sacred river. The expedition began at the meeting of the Yamuna and Ganges Rivers, the two holiest rivers in Hinduism, in the city of Allahabad. Here, a traditional wooden boat was purchased and a local boatman hired to undertake the expedition. Brett and his crew then traveled 10 days on the Ganges River from Allahabad to Gazipur. During the expedition, all food and water was purchased along the river and every night, camp was set up on shore. The ultimate goal was to travel the Ganges through an unfiltered lens – not as a western tourist.
Brett On The Water: Ganges River, Conclusion
December 23, 2013
Our expedition is complete! We spent the past 10 days on the River Ganges traveling from Allahabad to Gazipur. Although this may not compare in duration to some of my other expeditions we will take away just as much.
What was the highlight? Sleeping on the boat, cooking bread on cow dung, floating through the fog in the early morning, walking through villages lost in time... but the greatest experience of all has been sharing this journey with friends new and old. The Ganga was all I dreamt she be and much more.
The original plan was to find a boat and take off solo but we decided to hire a local boatman last minute and use his boat to undertake the expedition. This ended up being a wise choice. Ravi and his boatmen we're superb. We were able to see India through a lens we could not otherwise see. During the expedition we rowed while Ravi and his boys steered the boat. With the little English they spoke, and the fact we could not speak Hindi, we actually were able to communicate pretty easily.
And get this... we saw the extremely endangered Ganges River Dolphin. Well, we're pretty sure. Ravi said it was a fish but after doing some research we figured the giant specimen that kept jumping out of the water was in fact the Dolphin. I am 97% certain.
A big special thanks to Kensington Tours for helping to facilitate this expedition, without them none of this would had been possible. We have just under a week until we land back on home turf so we're heading down to Goa to relax for a few days in the sun. We had planned on going a few days further but multiple boatmen on the river said the Mafia was a serious threat east of Gazipur so we decided to play it safe and end at Gazipur.
In the meantime we wish everyone back home a Merry Christmas and we will see you for the New Year.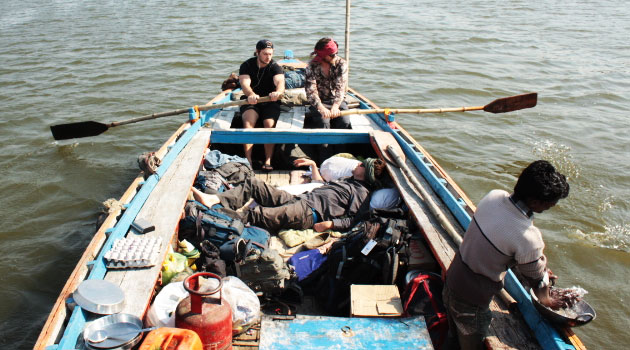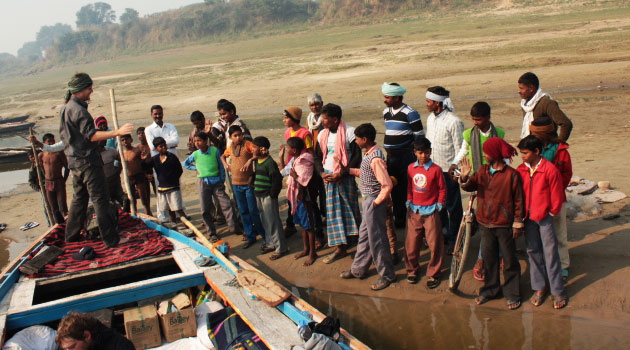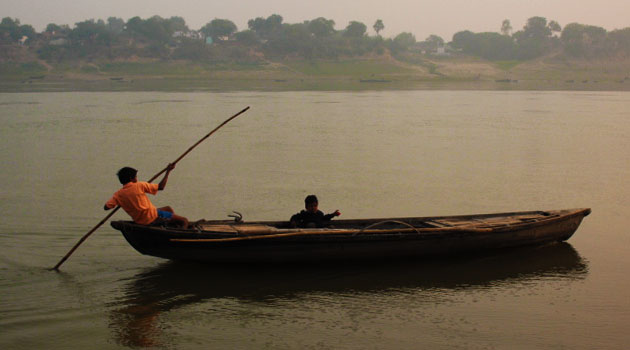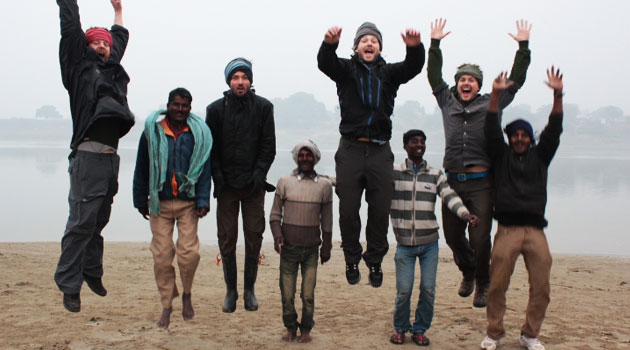 December 30, 2013
As we floated past a funeral possession I asked the youngest of the boatman, Perkesh, if people were sad when a loved one died. He replied, "When someone has lived a long time we cannot be sad, we can only be happy. We celebrate their passing for they have lived a long life."
It made sense. We had floated past a dozen plus cremations along the Ganga. Although I had no clue who those people were or what status they had attained in their life, the reaction was always the same. We never saw tears or heard cries. We often were greeted with waves and the odd person proclaiming "hello!" - all too eager to practice their broken English. Death was no more a stranger to these people than the birth of a child, the delight of a good harvest or the challenge of overcoming illness; it was all just part of the human experience.
On my last full day in India I found out my Gramma had passed away on Christmas Eve. She had lived a full 83 years of good health and comfort. With that in mind I was still shocked and saddened of the news. That evening just before sunset I walked the beach alone to reflect on her life and to say goodbye to India. As my bare feet met the wet sand, I looked out over across the ocean at the setting sun. For me, being out in nature has always been the best healing agent and the only real opportunity to make sense of things that one can never truly make sense of. The colours, the beauty of the sky and ocean, it was then that I realized something I had not realized at home, something that India, the Ganga and Perkesh had taught me.
As the day came to an end here in India a new day would begin back home. If the sun never set here than night would last forever back home. If this was reality people in India would never be able to appreciate the beauty of a sunset nor would people back home be able to see the calming power of a sunrise. One needed the other just as the other needed it.
The same can be said about life and death. Without death, life would hold little meaning. It may be something we fear because it's something we cannot control or ever fully understand, but it is as purposeful as a setting sun.
So while I am saddened by the passing of my Gramma India did teach me "when someone has lived a long time we cannot be sad, we can only be happy. We celebrate their passing for they have lived a long life." With that said I say goodbye.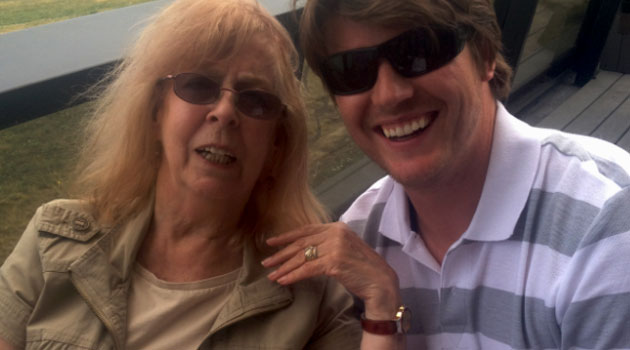 MORE ABOUT BRETT:
As a filmmaker, Brett has been mentored by Les Stroud, (Survivorman), who has helped guide Brett into becoming a storyteller. Les is the Executive Producer of Brett's last two expeditions, the Yukon and Mississippi Rivers. The Yukon documentary, 100 Days, is a firsthand account of Brett's expedition down the Yukon River from Whitehorse, Yukon to the Bering Sea. The Old Man River Project, was a 110 day undertaking on the Mississippi River from northern Minnesota to the Gulf of Mexico in a historic York Boat that was constructed specifically for this expedition.
Aside from his own projects, Brett has worked in television on Survivorman, Les Stroud's Beyond Survival, Megaworld, Mighty Ships and Top Chef Canada. As an instructor of TV Documentary at Conestoga College in Kitchener, Ontario Brett continues to emphasize that passion and creativity are the fundamental elements required to tell compelling stories. Brett has undertaken camera assignments in Alaska, Yukon, Northwest Territories, British Columbia, Peru, Chile, Antarctica, South Georgia Island, Cambodia, Thailand, Vietnam, Laos, and throughout the 10 States that boarder the Mississippi River.
Brett is a recent and proud member to The Explorers Club. Founded in New York City in 1904, The Explorers Club is an international multidisciplinary professional society dedicated to the advancement of field research and the ideal that it is vital to preserve the instinct to explore.
Brett has been featured on Breakfast Television, Daily Planet, Canada AM, The Weather Network, ABC News, the National Post, KW Record, Toronto Sun, Advocate of Baton Rouge, Hamilton Spectator, Waterkeeper Magazine, CBC Radio, and National Geographic Traveler, The Documentary Channel & more.
Website: http://www.brettonthewater.com/