Escape Magazine Features Kensington's Family Safaris In Kenya

Escape Magazine (a journal from American Express travel) features Kensington Tours' Kenya safaris in its summer 2013 issue of Family Escapes. The author of the article, Heidi Mitchell, picked seven exciting destinations for parents traveling with children which included Kensington's safaris in Kenya's Masaai Mara. She spoke to our East Africa destination specialist, Pieter Boerma, who shared a few great insights and recommendations for going on safari as a family. Click here to read the full online article featured in Escapes Magazine.
Click here to check out Kensington's full array of exciting Kenya Safaris.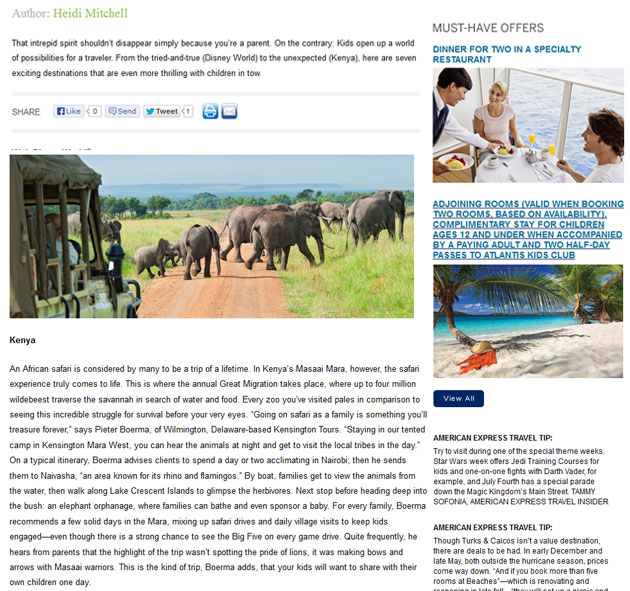 Recommended Tours
Custom Private Tour
This adventure will make your safari dreams come true in the most breathtaking ways. Featuring the best game park circuit in East Africa this is Kensington's most popular customizable safari itinerary. A photographer's dream, it's perfect for those who want a rich variety of game drives, unparalleled animal viewing, cultural encounters & a careful selection of our favorite classic safari camps & lodges.
More Info
Custom Private Tour
Track the Big Five throughout Kenya, with stays in four diverse wilderness areas on this value safari. Includes private transfers, nature guides and a mix of private and shared activities.
More Info