Introducing Explorer In Residence, George Kourounis

Referred to by the Toronto Star as a "Modern day Indiana Jones", adventurer and new Kensington Explorer-In-Residence George Kourounis is considered to be an outlier in his field. More correctly, his entire field of work could be considered well outside the realm of normal. He's dedicated his life to exploring and documenting the most extreme places on Earth, from the Arctic to the Antarctic and most points in between. His specialty is natural disasters, and he spends months at a time chasing tornadoes, driving into hurricanes and climbing into the craters of erupting volcanoes. George efforts have been seen around the world on the Discovery Channel, National Geographic Explorer, BBC-TV, CNN and of course, his own adventure TV program Angry Planet which has been broadcast in over 100 countries.
As a Explorer in Residence, he will be sharing his experiences with us in some of the most unique, inhospitable, and sometimes frightening conditions through words, pictures and videos, sharing his unique perspective on life at the edge.
"The opposite of fear is curiosity. The more curious we become, the more we learn and grow"
With support from Kensington Tours, George will be sending dispatches from his month long journey across the heartland of the U.S. as he criss-crosses the region known as "Tornado Alley" where storms can tower over twice the height of Mount Everest and concentrate all their energy on a single point where a tornado is grinding up a farmer's field. His 15 years of experience as a renowned storm chaser enables him to be at the right place at the right time to witness these jaw dropping forces of nature.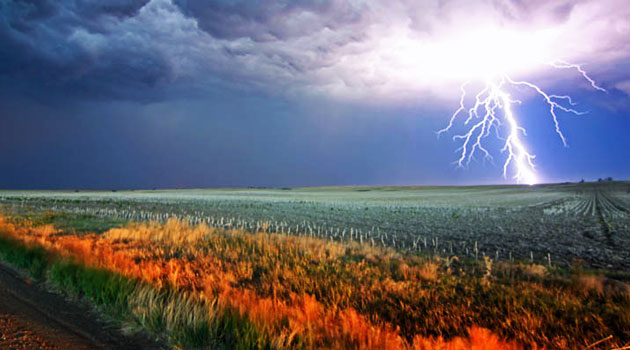 Colourful lighting over a farmer's field near Goodland, Kansas just before the torrential rain starts as a squall line storm passes.
Blog Post - May 01 2013
It's that time of year again. Spring storm season, although it barely feels like it. Most of North America has been hoping that Old Man Winter would soon be a distant memory, but he has certainly overstayed his welcome in many parts. For me, the gradual warming breeze from the south tells me that moisture from the Gulf of Mexico is making its way north, bringing with it the humidity that fuels what I'm searching for... Thunderstorms, and especially those that produce tornadoes.
Over the years, it seems to get harder and harder to convince people that I'm not insane. I intentionally go to tremendous effort to forecast where I think the worst weather is going to be, then spend hours driving across some of the flattest terrain you can imagine to get into position. to witness it up close. If you've ever driven across Kansas or Oklahoma, you know what it can be like. You could watch your dog run away for days, it's just that flat. But it's not so much the landscape I keep coming back to see. It's the skyscape.
The sky is different there. Not just big, but dynamic, always changing and when the thunder begins to rumble in the distance and the skies grow dark, that's when my pulse starts to increase. I'm always seeing something new in the sky and every storm is different, each with a personality of its own. Some spit intense lightning that can burn five times hotter than the surface of the sun, other try to pummel me with hail the size of baseballs, others spin like a top and spawn tornadoes, the fastest winds on Earth.
Tracking these tornadoes is tricky business. Imagine trying to find a needle in a haystack, but that haystack is moving at highway speed, with no regard whatsoever for the local road network or traffic laws. Seeing and photographing them is the icing on the cake for storm chasers, but like a whale watching trip, there's never any guarantee that nature will cooperate on any given day.
Starting from my home base in Toronto, I'll be heading southwest, driving through the heartland of America to my home away from home, Norman Oklahoma. From there, I'll head wherever the weather forecast takes me. We'll live like nomads, never knowing exactly where we're going to stay for the night as we pass through countless quaint, small towns where time seems to have stood still, where tourists rarely venture.
Right now, I'm just finishing up all my last minute preparations. Getting my vehicle serviced and ready for the trip (except for fixing all the hail dents in the hood. Those are trophies and I'll never get those hammered out). With one day left before I shove off there is still so much work left to do. Cameras need to be checked and re-checked, all my safety gear needs to be packed, plus a million other small details to dealt with.
Right now, the long range forecast has me a bit worried. A storm chaser's worst fear is when a ridge of high pressure settles into the Great Plains states, bringing with it clear blue skies for days. A "death ridge" as we like to call it, would normally be something to be excited about... IF you were planning a beach vacation. Unfortunately, It could take a week or more before a pattern like this eventually ejects out into the Atlantic Ocean, but long range forecasts are notoriously unreliable, so I'm cautiously optimistic. The reality is that it only takes one great chase day to make the entire season worthwhile. I've seen dry weather patterns in the past be broken by an isolated storm that has gone on to produce multiple tornadoes in less than an hour.
The month of May is the statistical peak of tornado season, so no matter what, there will be dramatic storms out there somewhere... And I'm going to find them.
The next dispatch will be from somewhere on the road...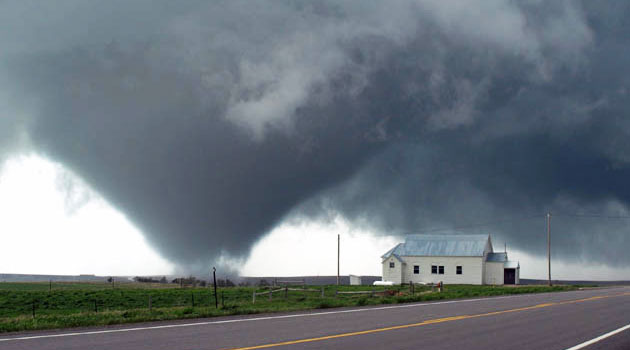 A very close call for a small rural church in South Dakota as a large tornado approaches. It crossed the road, but missed the building.
MORE ABOUT GEORGE:

George is a world renowned explorer, adventurer, storm chaser and television presenter who specializes in traveling the globe, photographing the most extreme forces of nature. His adventures have taken him to over 40 countries, on all seven continents, from the midst of hurricanes such as Sandy and Katrina, to tracking tornadoes in Oklahoma. He's been to the radioactive zone of Chernobyl, and the far reaches of the Arctic & Antarctica. He even got married on the crater's edge of an exploding South Pacific volcano.
His exploits have been seen in several hundred television appearances including: Discovery Channel, BBC, CNN, National Geographic Explorer, History Channel, The Weather Network, and his own TV series he "Angry Planet", which he hosted and co-created and has been broadcast in over 100 countries worldwide.
Some of his expeditions have included: Setting foot on a brand new volcanic island in Tonga that had recently erupted out of the sea. Swimming ashore due to rough waters, the ground was still hot to the touch; he became the first person to ever rig ropes across the Boiling Lake in Dominica and document it from above; in Indonesia, he measured ph levels on the world's largest lake of sulphuric acid by taking a small rubber raft out to the middle; with 15 years of tornado chasing and 17 hurricanes under his belt, he's also one of the most experienced storm chasers in the world.
George is a fellow of the Explorers Club and the Royal Canadian Geographic Society. He was twice nominated for Gemini Awards for his work on Angry Planet and regularly speaks at events around the world, including 4 TEDx conferences. He resides with his wife in Toronto.

Recommended Tours
Custom Private Tour
The centuries peel away as you stroll among the ancient, other-worldly rock formations at the remarkable Canyonlands National Park where the shifting shadows play tricks on your imagination.
More Info
Custom Private Tour
Take a deep breath as you find the courage to repel down a sheer cliff face and into a pristine pine forest pool where you'll swim through a silent granite slot as the walls of a narrow canyon rise 200 feet above you.
More Info