Ivona Has What It Takes

Destination Expert, Ivona Siniarska, is one brave traveler. Brave enough to climb Mount Kilimanjaro.
She has traveled extensively in Africa to various countries such as Namibia, Botswana, Malawi and South Africa. When she talks about her experiences, she's overcome with an overwhelming giddiness. Clearly, her heart belongs in Africa. She's over-joyed to be headed back for an epic 2 week journey starting with an adventure she has always had her mind set on - summiting the largest mountain on the continent. Next on Ivona's wish list is coming face to face with a Gorilla. She will be venturing into the deep and steamy rainforest of the Bwindi Impenetrable National Park tracking Mountain Gorillas. What's next? Searching for game in the Masai Mara on a Kensington private-guided safari.
Her preparation for the journey included 6 months of training and collecting used goods such as boots and clothing so she can gift them to those in need. We applaud Ivona's determination, brevity and generosity and wish her all the luck – she is truly a Kensington celebrity!
Here's a picture of everything Ivona's packing. You can follow her on twitter #KTinAfrica and @lilmissplanet and keep informed on her East Africa adventure – a promising one indeed!
Ivona will be sharing her stories and pictures upon her return - stay tuned!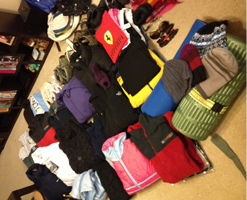 Recommended Tours
Custom Private Tour
Experience the thrills of an East Africa safari in Masai Mara, Serengeti and Ngorogoro, before finding sanctuary on the tropical beaches of Zanzibar.
More Info
Custom Private Tour
Meet mankind's closest relatives in Rwanda & Uganda, while enjoying authentic cultural activities, wildlife safaris, guided forest treks, and luxury accommodation.
More Info