Jeff Fuchs' Expedition: Sadanand and an Approaching Pass

Kensington Explorer-in-Residence, award-winning explorer and author Jeff Fuchs is currently leading an expedition to trace one of the ancient world's longest trade routes through the daunting and stunning geographies of the Indian Himalaya. On August 1st, Fuchs began what he's coined as the "Route of Wind and Wool"; a 33-day journey by foot to retrace the fabled route and track down the remaining traders who may still remember the days of the great "highway in the sky."
Here is part two of Fuch's account of the expedition accompanied by a few pictures he has captured along the way:
Sadanand and an Approaching Pass
"There are men that the mountains make, and these men cannot be away from the mountains for very long. For them being away means pain". A horseman in eastern Tibet once uttered this bit of mountain eloquence to me. I remember scrawling it down in a small book, where it then was transcribed into my brain like a kind of beautiful law.
I trudge behind a man that this could well refer to. The man is hunched, short, and has hands of leather that look as though they've been through ever battle ever fought. Sadanand at 65 one suspects will happily end his days in the very mountains we make our way through. Lined with his decades in the sun and wind, he has a pair of over-sized Crocs on with two layers of woolen socks that expand his feet, though not quite to the point where the Crocs fit properly. We've been told that he isn't content being at home "resting" and looking at him, it takes only seconds to see a mountain who is still very much restless.
Karma and Kaku remain with us and we've added another small powerful body to our team that of Tashi. But, it is Sadanand who takes the breath with his force of personality and his relentless pace. He has been working, trading, and leading mule caravans in these mountains since he was 13 years old and he is absolutely one of those "men that the mountains make".
Mules, sheep, yak, and goats were all involved in trade along the trail that we now find ourselves on, though the days of transporting by such means are long gone. Salt, wool, gems, medicines, silver, leather, barley...anything that could be transported was transported as the barter system was alive and well in the mountains.
We are plowing northward out of the Spiti Valley and its opulence of green silence and breezes. As we head higher everything seems to shrink and to become darker in colour. Weaving along a shred of a path we descend down into a gorge that seems subterranean, it is so dark, which makes the bolt blue sky appear as a slim strip of colour above us. Our day is one of ice-water crossings. Leading the way is Sadanand who, without hesitation, strips off two pairs of pants and a pair of long underwear and down into boxers to lead the mules through the torrents of glacial water which fill the valley bottom. There are no alternative pathways. There is only the slow plodding with knees facing upstream, and gentle steps needed to move through the water which has us all gasping. Fast moving ice-water from the sky has the power to pulverize the nerves and bones to an excruciating degree. Anything longer than 10 seconds and the pain moves up into the hips and beyond.
Tashi, our point man is off way ahead on scouting duties. His worry is two-fold: the potential for flash flooding from the mountains as glacial lake bursts in this part of the world are common...and deadly, and secondly he is looking for a place to camp. Water gushes through this valley leaving very little flatland. Tashi, another soft-spoken titan of a man who leads through doing and his relationship with the entire team is silky smooth. It is often this way, that the truly 'hard men' of the mountains are in fact gentle in manner. His strength is his ability to keep a consistent pace while reading the geography.
We've combined two itinerary days into one to ensure that we have a day where if anything goes amiss, we are still able to recover. It is a long day of heat, which even at 4,600 metres can thump the body into submission. The glacial stream crossings are only relieving for mere seconds before the cold threatens to annihilate the very bones.
Our camp, if we can find a space, will have to do with what every camp had to do with in the days of trade: grazing for the mules. Their digestive needs are more pertinent to this journey than our mortal hungers. Without their strength, we will simply stop. Caravan life has always been like this: the beings on four feet and wearing hooves have priority over those beings having two feet and covered in shoes.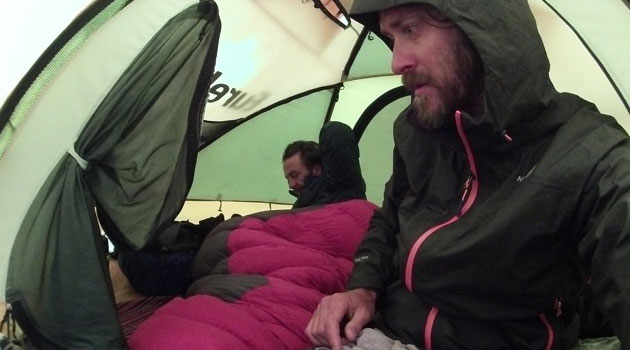 Tashi eventually comes over a rise in his red windbreaker signaling that a temporary 'home' has been found. His fabulous teeth gleam in the angled sun beams. In our mountain world, it is always the same: the moment the sun disappears, another world takes hold and the cold seems to rush out of the very earth. We need a camp and soon.
Camp is a narrow islet of land with a pitiful amount of grazing. The rushing grey water parts and cuts around this bizarre little bit of steady ground before re-convening with itself. We are a barely a half-metre above the level of the powerful current and if the levels rise in the night, we are finished. Tashi tells us calmly in his deep voice that unless we (and the mules) are prepared to trek another 2 hours this will have to do. Camp it is then.
Each night Sadanand has a minor bit of theatrics with the mules, which seem to both adore and resent the old warrior in equal measure. He unloads them with curses, slaps and the odd attempt at pushing them out of the way. In turn the mules deliberately make it more difficult to unload and one in particular, seems to know exactly how to exasperate Sadanand. Grinding days are made more entertaining with Sadanand and his mules. During the day's travails, our group met a shepherd and upon meeting up with Sadanand in particular there is a special moment of bonding between the two men as they just reach to shake hands but only just manage to scrape eachother's fingertips. A small exchange of smiles, and of the weather conditions and we are off. Another of the mountains' ancient laws is emphasized: "Cooperate or perish".
The valley we camp within was once the abode of thieves, famed for striking at the least expected times, even though every caravan knew to expect them. They would often strike at night or early morning and caravans would inevitably have a couple of 'heavies', who though competent horseman, were along for more defensive measures.
Our entire team that night is slightly slower. Every movement is thicker and there is far less chatter within the camp. The day has taken a toll and the following day is a monster, as we will summit the highest pass upon our entire journey, the bleak 5600-metre Parangla Pass. Mountain 'pace' is about knowing when to speed up and above all knowing how to be consistent. It is also about knowing how to stretch one's energy and when to sleep. Sleep that night comes early to all.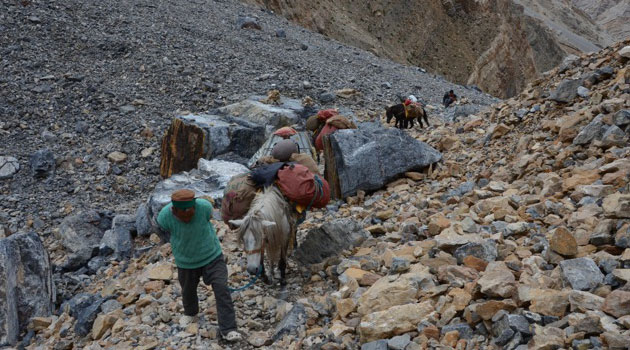 Morning arrives to the ears before the eyes as I hear Sadanand rustling about with the mules, speaking to them, to himself, and probably to the early morning gods as well. He is a fussing monster of nerves in the morning and it is inevitably he, who rises first.
Our departure is amid grey smoldering skies. We remain a silent bunch and begin to slowly ascend. Sheep and goats were once regular travelers along this route, strange as it may seem. They were outfitted with leather satchels that hung on both sides of their ribs, and inside these satchels up to 15 kg's of salt would be loaded. Salt, along with the pashmina wool were keys to caravans' 'profitability along the daunting routes as if a caravan had these goods they had goods of value.
Sadanand on this morning seems to be in a mood to simply punish the mules leading our team at a torrid pace. He is like many horsemen in that once a pass or summit is in sight, they simply want to be done with it and move onto greener pastures. Our sky continues to be an ominous dark ceiling of dense gray, and there isn't even a puff of wind. I stew in this lack of moving air as it gives the impression that there isn't anything moving. It makes the ascent that much more of a grind and for myself it creates a kind of claustrophobia in the mind. At least with the wind, one feels an impact and a sharpening of the senses, but with this dead air it as though everything has suddenly become thicker and heavier.
Mountains have the ability to turn the mind inward. For all of the stunning rock, and magnificence that the senses can take in, the mind still can turn inward in small increments. In time our team spreads out until at one point there is a two-kilometre gap separating the tail and head of our caravan. Each team member plods, head down, it seems in his or her own little world. Even our mules have their necks drooping lower, and yet bit-by-bit more of the pass becomes visible. And with this visibility comes wisps of wind, which are barely hints at first. Then, the smell of snow – and snow does have a smell – comes down from the heights burrowing up into the sinuses. The pass is upon us.