Kensington Tours Featured In Afar Magazine - Traditional Art In Korea

The article entitled "Mind, Body, and Seoul" includes a number of travel tips from Afar Contributor, Brandon Presser, following his visit to Seoul. Kensington Tours is featured in the "Art" section, highlighting Brandon's experience with decorative knot artist Kim Eun-Young. The article notes that travelers can arrange a visit with Kim and other traditional artists through Kensington Tours.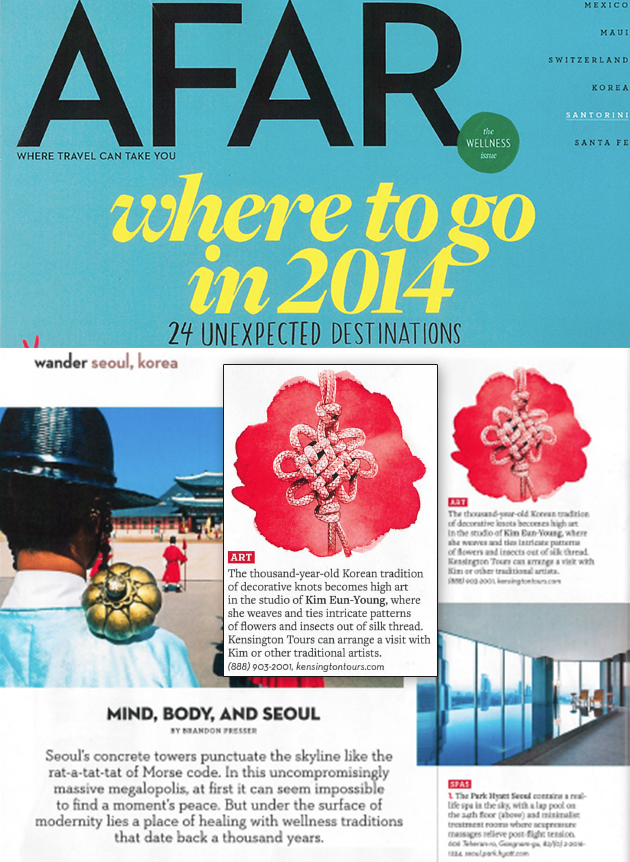 Kensington Tours is also included in the online version of the magazine, in a travel piece entitled "Learning about Korean Carpentry." Brandon discovers the Korean art of nail-less carpentry during a visit to Shim Yong-Sik's beautiful studio. Travelers can learn about the rich history of this coveted Korean art and even be an apprentice for the day. He brings attention the importance of a local guide in translation assistance and for those who don't speak Korean, "Kensington Tours can help with this."
Click here to view the article online.