Kensington Tours Featured In Departures - Winter Travel In Rajasthan

Kensington Tours is featured in Departures' chosen destinations and experiences for new winter adventure travel. The article highlights the ancient Hindu religious festival of Holi (March 17–18, 2014; March 6–7, 2015) and Jaipur's Elephant Festival during a customized 12-day Kensington trip through Rajastan. Traveling through Udaipur, Jodhpur and Jaipur, the itinerary features visits to important monuments and temples, dinner, an Indian cooking class and meetings with local spice merchants and textile artisans. Enjoy top hotels such as Taj Lake Palace while celebrating India's most popular festivals.
Click here to view the article online.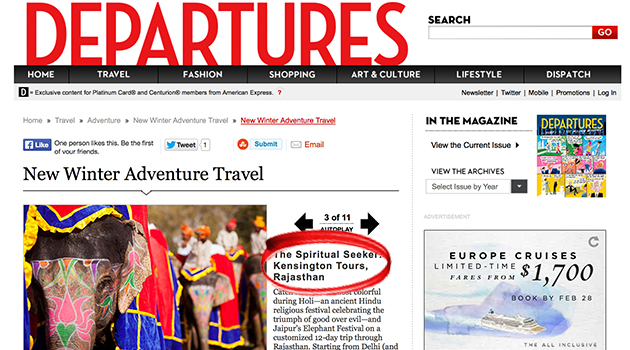 Recommended Tours
Custom Private Tour
Throw colours as you race the grounds of an ancient palace, and watch elephant beauty contests, as you celebrate one of the most unique festivals in the world; India's Holi Celebration. Join Holi on March 17 & 18 2014, or on Mar 6 & 7 2015.
More Info
Custom Private Tour
Venture deep into the jungles of Ranthambore where tigers roam among 13th-century temple ruins. You'll also cruise the holy Ganges, visit the birthplace of Buddhism, shop in colourful bazaars & marvel at the Taj Mahal.
More Info
Custom Private Tour
An exotic adventure through Mumbai, Udaipur, Jodhpur, Jaipur, Agra, Varanasi & Delhi. Tour the palaces of the maharaja, spiritual temples, charming villages, colourful markets, dazzling forts & legendary Taj Mahal with private guide & driver. Featuring tonga rides, artisans, luxurious hotels, internal flights & more!
More Info