Kensington Tours Featured In The New York Times - 36 Hours In Yangon, Myanmar

Ceil Miller Bouchet of The New York Times spends a brief but all-encompassing stint in Yangon, Myanmar to reveal the reasons why the country's major city is hoping to become Southeast Asia's next boomtown. In 36 hours, Bouchet uncovers the time-warped city including a visit to the golden splendor of Shwedagon Pagoda. She endorses enlisting a local guide in advance as being advantageous in that it provides cultural insight and helps support economy. Kensington Tours' half-day "Spiritual Shwedagon" tour is acknowledged as an example. Furthermore, the article notes that our local operator in Yangon donates a portion of proceeds to community projects - like the renovation of a 120-year-old Buddhist ordination hall at the foot of the pagoda that is featured in the tour.
Click here to view the article online.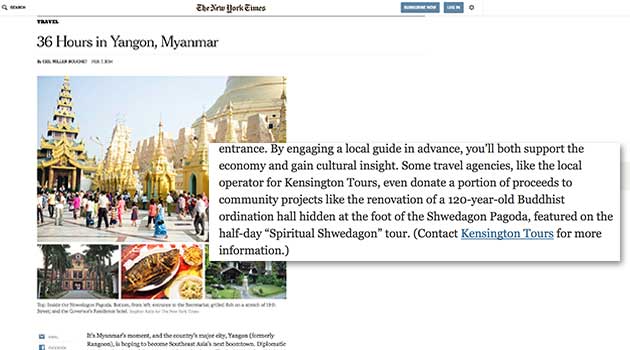 Recommended Tours
Custom Private Tour
12 days

from

$6650 - travel in 2014 and save $500 per couple*
Custom Private Tour
Welcome to the wonders of Myanmar. A treasure forgotten by time where you can still get a real sense of the South East Asia of the last century. Be one of the first to experience the luxurious new Sanctuary boat on this land & cruise combo. Book for travel in 2014 and save!
More Info
Custom Private Tour