Kensington Tours is proud to introduce our newest Explorer in Residence, Mariellen Ward

Writer and spiritual adventurer Mariellen Ward became an expert on the culture, cuisine, religions and history of India after spending 17 months touring solo across the breadth of the subcontinent.
In the land she calls her "soul culture," Mariellen has been blessed by the waters of Ganga during the Kumbh Mela, felt the power of the desert in Rajasthan while on camel safari, practiced yoga at ashrams, greeted dawn at Kanyakumari, the southern tip of India, visited the Taj Mahal during a full moon and watched the colors of sunrise splash against the vast, white Himalayan range.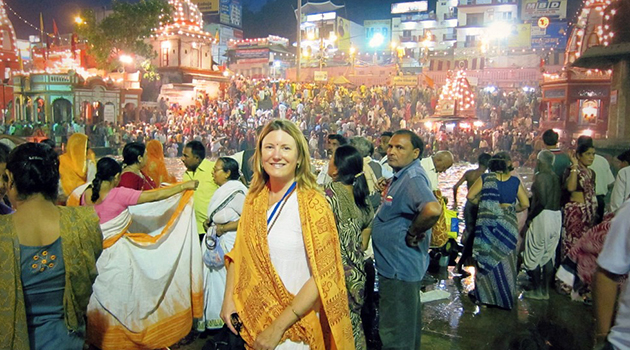 Mariellen chronicles her travel experiences in India and other parts of the world on her award winning website Breathedreamgo.com, which is syndicated by the Times of India. She has been featured on several travel websites including Matador Network and TravelWireAsia.com, and in 2010 she published her first book, Song of India: Tales of Travel and Transformation.
Mariellen is the founder of #WeGoSolo, a growing movement to encourage female solo travel. She is Kensington Tours' first female Explorer in Residence.
Kensington Tours is proud to have Mariellen leading a symbolic and cultural expedition in northern India in October 2014. The tour follows in the footsteps of mystical Rajasthani princess Mirabai, who cast the domestic pressures of society aside to follow her spiritual yearnings and creative dreams.
Read more about Mariellen's adventures at http://breathedreamgo.com/
And be sure to follow her on twitter http://twitter.com/Breathedreamgo
Recommended Tours
Custom Private Tour
Venture deep into the jungles of Ranthambore where tigers roam among 13th-century temple ruins. You'll also cruise the holy Ganges, visit the birthplace of Buddhism, shop in colourful bazaars & marvel at the Taj Mahal.
More Info
Custom Private Tour
11 days

from

$4995 to join our explorer-led, special group departure**
Custom Private Tour
A multi-dimensional world of sweet contrasts, spiritual encounters, and vibrant culture, behold India's exotic highlights led by Mariellen Ward. Author and Indophile, Mariellen is the perfect leader for your soulful journey as you make your way through Delhi, Udaipur, Jodhpur, Jaipur, and Agra. Departs October 28th 2014.
More Info