Madagascar Surprises

I'll be the first to admit that I'm in a serious and committed relationship with Africa. I've traveled to over 11 countries and been on more than a 100 game-drives in various parks. The affair is exciting, terrifying, inspiring and unwavering. The best part? No matter how comfortable or familiar I become, there's always more opportunities to learn, discover and be swept off my feet time and time again.
After returning from South Africa last year, I decided that Madagascar would be the next facet of this relationship to unravel. Actually, I've been planning a trip to the fourth largest island in the world since the age of eight, when I became infatuated with lemurs. Besides my fascination for the large-eyed, bushy tailed primates, I was confident that Madagascar would deliver the expressly unique experiences I was craving. As an outdoor enthusiast, I was in for a real treat. Referred as the "eight continent", Madagascar is home to many species of plants and animals that are found nowhere else in the world. I'd be capturing, in the photographic sense of course, some of the most unique wildlife I would have ever seen. From rainforest to desert with 5000km of coastline and 25 islands, the island's landscape is diverse to say the least. I looked forward to playing in this natural wonderland.
My partner, Curry, started packing his bags upon mention of my proposed trip. As a nature lover and professional photographer, he was determined not to miss this extraordinary opportunity. We traveled during the dry season in late October and I assumed that much of the landscape would be arid and bare – not an ideal backdrop.
I was wrong. Upon arrival, I instantly noticed the lush and vibrant panoramas, an intense kaleidoscope of nature. I was pleasantly surprised. And my amazement didn't stop there. My entire Madagascar experience was a constant barrage of awe-inspiring and dreamlike surprises that captured my heart.
Here's how Madagascar surprised me:
Lemurs, lemurs, everywhere! I didn't expect it would be so easy to scratch the first thing off my list – lemurs. Sometimes they'd be wandering about and other times we'd have to follow their high pitched sound in search of them. I'd say we saw about 12-15 different types and they're not nearly as elusive as I thought they'd be. I was in lemur heaven – my eight year old self was happy!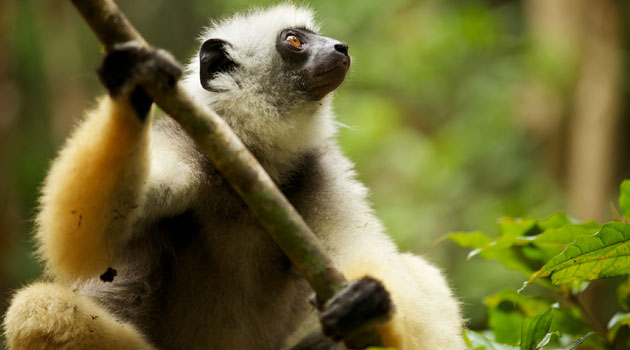 Getting down to earth with trekking. I've been a little spoiled with my safari experiences. I'm used to being perched up in a 4x4 jeep, pointing to where I want to go next and sipping sundowners in comfort. However, using my own legs as a mode of transport was a fantastic way of getting close to the wild and experiencing the natural surroundings to the fullest. My suggestion: if you plan on trekking, be prepared to work hard and get dirty. Trust me, it's worth it!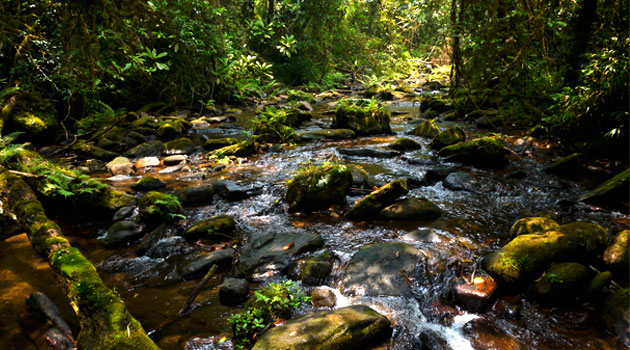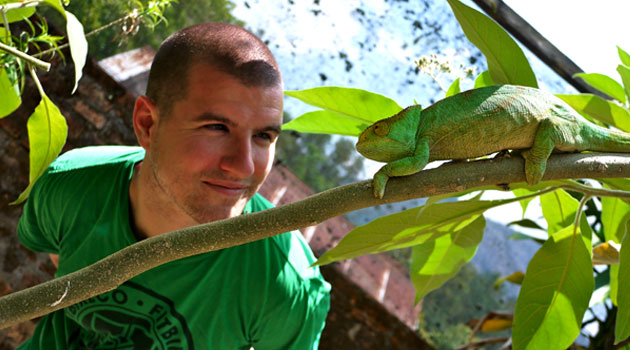 Beef is not beef, it's Zebu. Zebu is sometimes known as humped cattle which is a perfect description. Zebus can be found mostly everywhere and the meat is a staple in Malagasy cuisine. I really didn't think I'd enjoy it as much as I did. For me, it soon became the best thing to eat on any menu. Our guide would say at every lunch, "Go for the Zebu!" But as we got closer to the coast, we opted for the seafood. It was definitely the freshest seafood I have had in years.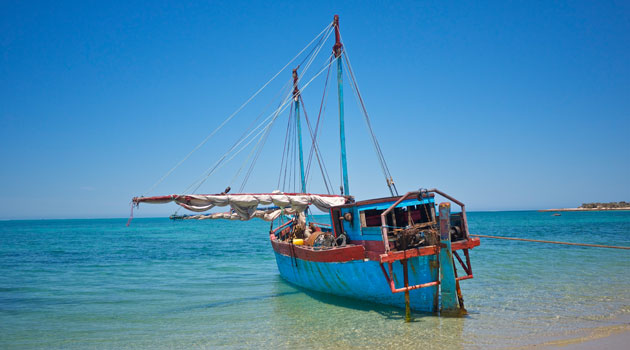 Magical wildlife interaction. Seeing animals in their natural habitat is a huge draw for me but being able to interact with them is icing on the cake. The lemurs at Chameleon Sanctuary and Vakona Island were the friendliest we encountered during our lemur fever adventure. They'd playfully approach and climb all over us, some still eating bamboo or tree fruit. A few even jumped in to our canoe as we made our way down the Vakona River. This was travel magic at its finest!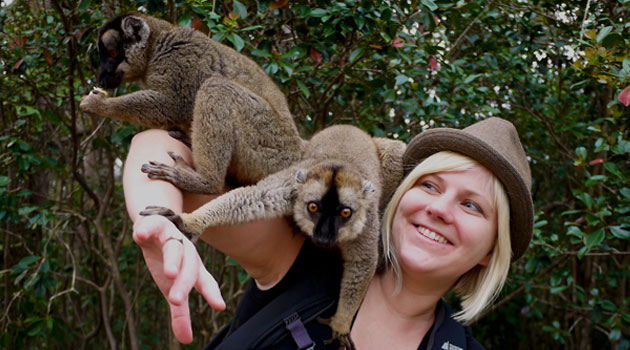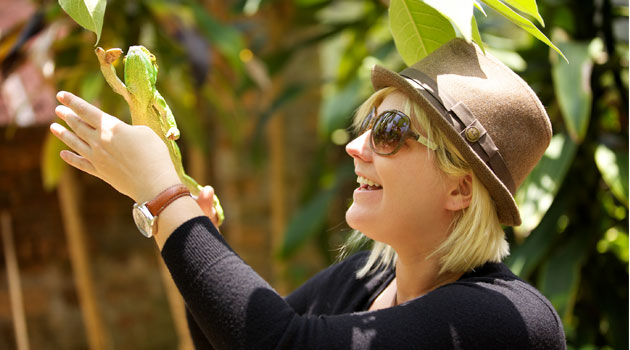 Supreme snorkeling. Snorkeling in Nosy Ve, an island off Anakao, rivaled the best marine life viewing I've ever experienced. I was awed by the reefs, filled with colorful fish and coral that I've only seen in television documentaries. It was a fantastic way to blend relaxation with ocean wildlife viewing.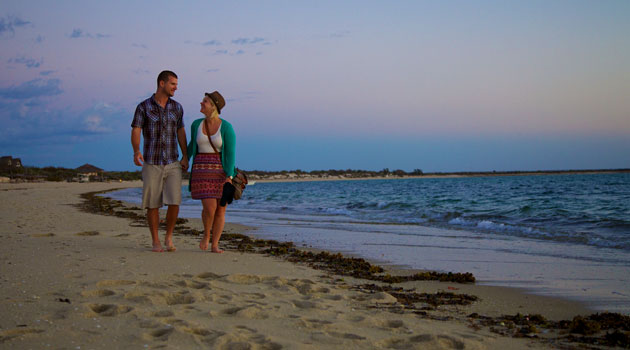 Sublime beaches. Anakoa beach was a heavenly end to this tour. It's no surprise that after hiking 4-5 hours on average every day and driving across the country, the coast was a welcomed rest. I was astounded by how idyllic the coast is; a natural meditative vibe permeating from the incredibly soft sand and clear waters.
Click here for more information on this Madagascar Signature tour.
Click here to see more amazing photos from Gaby's Madagascar adventure.
Gabrielle Nijdam, Africa Expert, wanted to be an oceanographer when she grew up. Now, after 10 years of working in travel and having seen most of Europe and Africa, she has no regrets. As our Africa expert extraordinaire, Gabs is a catalogue of intricate safari details and secluded luxury lodges. Never shying away from an adventure, her ultimate thrill was brushing past a gorilla! Gaby's Travel Tip: Spacious tents set in a palm grove overlooking private wilderness makes Jack's Camp in Botswana my favorite luxury safari camp.
Recommended Tours
Custom Private Tour
Leaping lemurs, carnivorous plants, monkey trees, exotic rainforests, giant butterflies and beyond perfect beaches, Madagascar is beyond exotic.
More Info
Custom Private Tour
The mist is heavy deep in the Madagascan rainforest and sweat drips from your brow after a full-day hike. Then you see it grazing among the bamboo thickets – the rare golden bamboo lemur – and your heart leaps.
More Info
Custom Private Tour
You wake suddenly, sure that the haunting, melodic wail was a figment from your dreams. As your eyes adjust to the darkness around you, you hear it again; this time carried through the trees from a distant part of the forest.
More Info