Cruise to the end of the world with renown polar explorer, Mark Terry

Kensington Tours is offering a unique opportunity to travel with award-winning explorer and filmmaker (and Kensington Explorer-in-Residence), Mark Terry, as he leads North Pole and Antarctic Expedition cruises.

Embark on an epic quest to the end of the earth led by polar explorer and Gemini award-winning filmmaker Mark Terry on two exclusive cruises from Kensington Tours – one to the Arctic and one to Antarctica. Under the wing of this renowned Canadian environmentalist, Kensington clients will enjoy exclusive access to Terry's expert perspective and insight into these pristine wildernesses, their stunning wildlife and the environmental challenges affecting the white continents.
"The Polar Regions remain the most unexplored and stunning destinations on our planet," says Terry who has worked with respected organizations including the UN and the Royal Geographical Society. "With global warming drastically affecting ice conditions, previously inaccessible lands and seaways are opening up to amateur exploration for the very first time. For me this is a great opportunity to share my knowledge of and love for these stunning eco-systems and add unique environmental depth to the expedition cruising experience."
These thrilling and action packed cruises are an adventurer's dream come true. In addition to arctic safaris, iceberg trekking, penguin encounters, polar bear swims and zodiac rides hosted by Terry, travelers will enjoy daily lectures, scientific presentations and intimate screenings of his award-winning documentaries The Antarctica Challenge: A Global Warning and The Polar Explorer both made in partnership with the United Nations Environment Programme. Part of Kensington Tours' "Explorer-in-Residence series" these exclusive eco-expeditions make for a life changing adventure.


Out Of This World Adventure
North Pole Expedition Cruise With Mark Terry
Starting June 30th, 2013 from $23,995 per person
A dramatic voyage across thousands of miles of sea ice to the Geographic North Pole led by celebrated explorer Mark Terry. From helicopter flights, champagne toasts and polar bears, to glacier trekking, otherworldly hikes and the mind-blowing Northern Lights, adventure awaits. Sail across the Barren Sea into the Arctic Circle and finally rest at the northernmost tip of our planet. Complete with private transfers, internal flights, pre-cruise hotel with private Helsinki tours and much more.
http://www.kensingtontours.com/tours/europe/finland/north-pole-arctic-expedition-cruise--with-mark-terry
The 8th Continent
Antarctic Adventure Cruise With Mark Terry
Starting Dec 9th, 2013 from $7,895 per person
Defy your limits with sea kayaking, zodiac excursions, iceberg trekking, cross-country skiing, volcanic hot springs and polar swimming, this exclusive eco-expedition led by Mark Terry featuring one of the most prestigious ships to sail Antarctic waters. Behold the magic of the Beagle Channel, Drake Passage, South Shetlands and Antarctic Convergence. Spot elephant seals, whales, waddling penguins. Complete with pre-cruise tours Tierra del Fuego, hotels, internal flights, transfers and more. http://www.kensingtontours.com/cruises/antarctica/antarctica-expedition-cruise-with-a-famous-explorer-
Click here for more information on Kensington's North Pole Expedition Cruise lead by Mark Terry (with June 30, 2013 special departure). For other polar adventures led by Mark to the Arctic and Antarctic, click here or visit the Polar Adventures Tours Facebook page. You may also contact Mark directly by emailing him at polaradventures@live.ca.
As part of these unique expeditions, Mark will be giving presentations each day on various subjects, scientific research and his personal experiences. Here's a glimpse at the specialized North Pole itinerary including his talks:
Day 3: Exclusive screening & Q&A of "The Polar Explorer" with award winning Filmmaker, and your host, Mark Terry
See the film that helped the UN create new environmental policy
Day 4: Ice Presentation
We'll be passing through ice, but ice has many faces. We'll examine the differences between old ice and new ice; white ice and blue ice, icebergs and ice islands; land ice and sea ice.
Day 5: Arctic Marine Life Presentation
Climate change has introduced new invasive species to the Arctic. We'll examine them as well as other creatures living in the Arctic seas you may not have known.
Day 6: Arctic Animal Life: Polar Bears, Walrus, Foxes, Terns
The Arctic eco-system is changing rapidly leaving many indigenous animals fighting for survival. We'll explore the reasons for their changing migration patterns and how to spot them in the wild.
Day 7: History of Arctic Exploration and Race to the North Pole.
We'll review the race to Latitude 90 degrees North (the North Pole) and how Robert Peary became the first man to reach the Pole in 1909. We'll also examine the difference between Geographic North and Magnetic North.
Day 8: Presentation Franz Joseph Archipelago
As we sail through this area of the Arctic, we'll examine the 191 ice-covered islands. It has no native inhabitants, but several settlements have been built by Russian settlers.
Day 9: Russian Arctic Research
Amazing scientific discoveries in the Arctic is being made by the Russian scientific community. We'll learn some incredible new data about this remote part of the world.
Day 10: Climate Change in the Arctic
Warming temperatures are causing ice melt on land and at sea. How will this impact on the native eco-system as well as the rest of the world? We'll explore this as well as how climate change is responsible for changing weather patterns.
Click here for more information on Kensington's North Pole Expedition Cruise lead by Mark Terry (with June 30, 2013 special departure).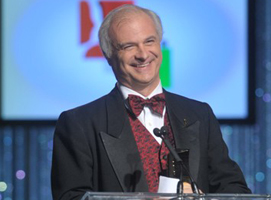 A Kensington Explorer-In-Residence, Mark is the 2011 winner of the Gemini Humanitarian Award and recipient of the Stefansson Medal for his work in the Arctic and Antarctica. As a documentary filmmaker Mark Terry has been producing award-winning films in Canada for more than 20 years. With his film, The Antarctica Challenge: A Global Warning (2009), he achieved the rare feat of setting foot on all seven continents, and his latest film, The Polar Explorer, was the only film invited to screen at the 2011 UN conference in Cancun. Mark is an expert in the environmental issues affecting fragile eco-systems and, by extension, the world.
Recommended Tours
14 days

from

$24,995 pp Book now for 2014 and get FREE Return Air Helsinki to Murmansk + FREE Walking tour in Helsinki*
Custom Private Tour
Special Offer:
Book now for 2015 departures and get for FREE Private tour in Helsinki and FREE flights from Helsinki to Murmansk and return. Subject to availability.
Join a unique expedition to the North Pole. Be part of the history and book your "Victory" departure now for 2014 or 2015, as this is your last chance to experience the largest and the most powerful nuclear-powered icebreaker in the world. This ship will make its final voyages in 2015.
More Info