Medieval Relics and Friendly Beer-ophiles

I've been on tours of Ireland a few times before but this time I had a more precise and spirited approach to my journey. I endeavored to dig deeper and unearth the charming disposition of the people, history and landscape that had formerly entranced me. By the end of my journey, I realized that it is the iconic Irish friendliness that left the biggest impression. I rediscovered a country overflowing with the warm hospitality of the most amiable people I've ever met during my travels. In their gleaming faces, open hearts and quick wit, I made friends and shared many laughs.

Crafting an itinerary similar to our Ring of Kerry & Southern Sights tour, my adventure started in the quintessential Irish village of Cong. The main attraction is Ashford Castle; a medieval castle turned five star luxury hotel. I was welcomed with complimentary whiskey (provided to all guests) which was an impressive and indulgent offering. Sipping on the whiskey and surrounded by exquisite antiquities, I lavished the opulence of an age-old era.

Of the various experiences Ashford offers to its guests, the ancient art of falconry intrigued me the most. If there was ever a time to overcome my fear of large birds, this had to be it! We started on a breathtaking walk through the surrounding woods and while the falconer swiftly sent and returned a Harris hawk, my apprehensions faded. The hawk remained majestic even as it perched on my hand. I never would have guessed; a well-established Irish tradition had finally conquered my bird-related anxieties! Ashford offers other options such as horse riding which is also a wonderful family activity.

It's not hard to understand why the Cliffs of Moher ranks as one of the top visitor attractions of Ireland. Over five miles long and towering up to 660 feet, the cliffs reign unrivaled over the Atlantic Ocean coastline. Taking in the sublime views alone, is enough to enlighten and inspire. A visit to the Cliffs of Moher on any Ireland tour is an option I highly recommend. Looking over the edge however, I do not suggest!

En route to the Rings of Kerry, we drove through the Dingle Peninsula. Narrow roads flanked by staggering cliff edges and rocky hills added to the allure of this remote place. Apart from its intense and diversified beauty, Dingle is also full of surprises. Never was I expecting to see palm trees or a dolphin named Fungi! The palm trees are a product of the warm Gulf Stream that reaches the peninsula, which gives Dingle a mixture of rare and unusual flora and fauna. Fungi the dolphin has frequented the harbor area since 1984 and shows up regularly to greet visitors. Offering an opportunity to admire the stunningly beautiful surroundings of Dingle Harbour, the boat tour made a nice addition to the visit.

Another noteworthy side adventure is the Slea Head Drive, a circular route that starts and finishes in Dingle. The half day drive features views of what seem like untouched relics from the past; ancient churches, fishing villages and stone houses.


Set in the heart of Killarney National Park, Muckross House is a charming 19th century Victorian mansion that is well worth a visit. Close to the shores of Muckross Lake and a focal point of the park, it makes for an ideal base from which to explore the surrounding landscape. I could have easily spent half the day exploring the extensive gardens. The interior of the house is equally impressive, portraying the elegant 19th century lifestyle of the landowning class. There's no better way to explore the estate than by horse drawn carriage – an authentic experience, true to the century old traditions of the house.

Upon arriving in Dublin, I immediately noticed the doors of the Georgian town houses. Not only are they all different colours but painted and maintained immaculately. There are numerous, equally colourful reasons for the doors. The version I received from my guide is that the former residents of Georgian Dublin were once forced to adhere to the strict Georgian style and architectural guidelines. In order to differentiate themselves from one another, they painted their doors in the colour of their liking and added ornate knockers. No matter the reason, I think the Doors of Dublin reflect the charismatic characters of every Irish person I met during my trip.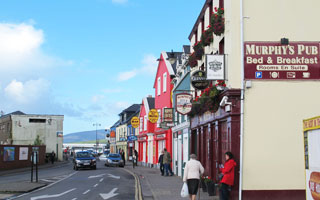 INSIDER TIP:
After touring all day, I sometimes wouldn't get to eat dinner until much later than usual. On the first such occasion, I learned that most pubs in Ireland stop serving dinner around 9:30pm. I happily embraced the easy solution - a liquid dinner of cold Guinness, listening to live music in a homey pub brimming with friendly locals. I made new friends and learned how to say "cheers" in Irish Gaelic. Only two days in Ireland and I could officially cross quintessential Irish pub experience off my list. "Slainte!"
Lesson of my story: Be advised that many pubs, especially in small towns, stop serving dinner after around 9:30pm. If you're going to be dining at a pub, make sure to get there and make your order early!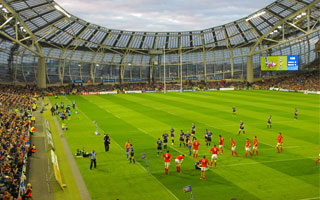 FAVOURITE MOMENT:
Munster versus Leinster - two of Ireland's top rugby teams tackled each other while I watched among 45,000 screaming fans. I looked around at the energetic crowd, roaring chants and drinking beer, and decided that this was a perfect way to gain a local experience. Rugby in Ireland attracts the biggest attendances and is a fundamental part of the culture. Admittedly, I don't follow rugby at all and this was my first live match. But I was soon converted in one moment of silence; a sudden hush fell over the vivacious crowd as a penalty kick was about to be taken. In that instant, I realized that it was more than just a game. Although they were divided by their own team loyalties, these fans acted together for a single, common faith. I don't remember who won the match that day and somehow, it doesn't really matter.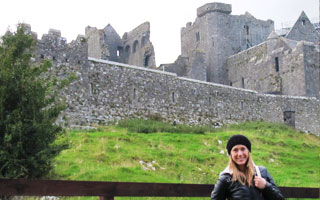 FAVOURITE DISCOVERY:
Huge, iconic and medieval - I didn't need any more reasons to check out the Rock of Cashel and I'm so grateful that I did. The oldest buildings date from the 12th to 13th centuries, representing both Romanesque and Germanic influences in their architecture. Although it is now an abandoned ruin, it isn't hard to imagine that it once served as a symbol of power for more than 1000 years. Its prominence still breathes a splendor that I found the most profound compared to the other castles and fortresses I saw in Ireland.
Jessica Hill is our Western Europe Destination Expert. She is ambitious about travel and bringing unique experiences to her clients. Everytime Jessica comes back from her adventures, she's got plenty of stories and pictures to back them up. She's inspired many of her clients traveling in Europe to jump off the beaten path and try something extraordinary. You can contact Jessica at jessica.hill@kensingtontours.com if you have any questions about her trip or if you're interested in planning your own adventure!
Recommended Tours
Custom Private Tour
A warm welcome in a traditional pub, a meeting with long-lost relatives, a walk through wild green landscapes; here in Ireland, stories are written into the land. Explore the wonders of Dublin, Connemara and the Ring of Kerry while staying at Ireland's most highly recommended Bed and Breakfasts.
More Info
14 days

from

approx. $5,589 (depending on services added outside of small group tour)*
Small Group Tour
Familiarize yourself with the metropolis of Dublin and see the city your way - either independently or in the company of a private guide and/or driver. Then join a small group for a 12 day tour of the island of Ireland, from North to South and East to West. See dozens of the country's magnificent sites from the popular to the lesser known jewels.
More Info
Custom Private Tour
Lose yourself in Ireland's most inspiring countryside and vibrant cities. With a private guide you'll discover Belfast, Dublin, Cork, Killarney & more.
More Info