Tornado Chase 2013 - Freak Snow Storm

Kensington Tours' Explorer-in-Residence, George Kourounis, continues to send dispatches from his month long journey across the heartland of the U.S. as he criss-crosses the region known as "Tornado Alley". Here, storms can tower over twice the height of Mount Everest and concentrate all their energy on a single point where a tornado grinds up a farmer's field. George's 15 years of experience as a renowned storm chaser enables him to be at the right place at the right time to witness these jaw dropping forces of nature.
May 4, 2013 - Snow Storm (Springfield, Missouri to Norman, Oklahoma)

Chasing tornadoes is just one example of the wide variety of natural phenomena that I track down and document. It's not unusual for me to find myself photographing lightning in Arizona, or sand storms in the Sahara desert or perhaps choking on poisonous fumes while climbing an Indonesian volcano.
Today I came across a weather event that I've never seen before... Snow. More specifically, snow In May, in southern Missouri. Ugh.
I had departed Toronto in the early morning on my 2 day drive to Oklahoma, where we typically begin any tornado chase trip. The peak of storm season happens in May when plenty of humidity is in the air and the jet stream (a river of fast moving, high altitude air) is parked over the Great Plains. As I kept driving southwest, the weather kept getting my attention. First, it was line of thunderstorms in Illinois. That's good to see. The ingredients in the atmospheric stew were coming together and things were looking up, but it didn't take long to see that I couldn't have been more wrong.
The line of storms had formed ahead of a sharp cold front which was passing right over my position, which meant that I was about to drive into the cold air mass that was behind the storms, and cold it was. That night, I stopped in Rolla, Missouri after driving 880 miles (1400 km) and I awoke and opened the door, totally shocked by how surprisingly cold it was outside.
Then, snow. It was starting to freaking snow.
The snow even got worse as I continued to drive and by the time I'd made it to Springfield, it was coming down quite heavily. I couldn't believe my eyes. I was starting to regret taking off my winter tires a few days ago. Cars and trucks had spun out and were in the ditch, the grass was turning white and people were out, trying to brush the snow off their windshields with their coat sleeves.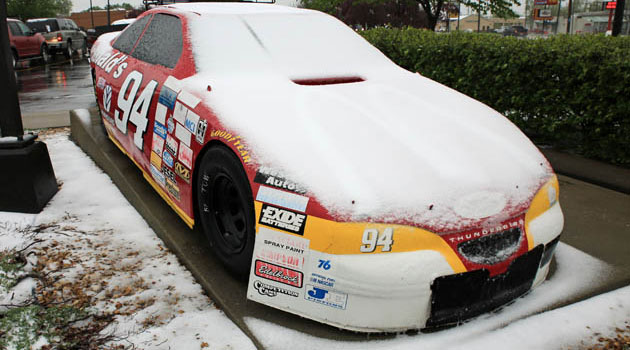 After snapping a few pictures while shivering in the cold, I continued on and by the time I crossed the Oklahoma state line, the snow was thankfully gone and the sun was starting to peek out from the breaks in the clouds. The worst was over.
Even today, it's still too cold for my liking, but at least I'm out of the snow. This cold air intrusion is going to disrupt my chances for any good chase-worthy thunderstorms over the next few days at least, but that's how this game is played. We gamble on the possibility of severe weather and sometimes Mother Nature throws us a curve ball. Even if we get the opportunity to chase some storms, the tornado potential will remain low for a few days, but for right now, I'm just regrouping, getting organized and meeting up with friends that I only get to see once a year.
The weather is something that binds us all together. It affects every aspect of our lives from what kind of car we buy, to what we wear, to how we construct our homes. Everything we do is somehow linked to the weather, and it is the perfect conversation starter when we encounter someone we've never
met before. In an elevator or in line at a store, the weather makes the perfect topic for small talk. It is not political or religious, we can't control it and yet it has a tremendous influence on our daily lives, plus,
everybody has a good weather story of some sort. We brag about the toughest weather we've endured or we recount the time that a tree came down in a storm and landed on the neighbor's house, or how deep the snow was when we were growing up.
I guess it is the uncertainty of it all that I find fascinating.
MORE ABOUT GEORGE:

George is a world renowned explorer, adventurer, storm chaser and television presenter who specializes in traveling the globe, photographing the most extreme forces of nature. His adventures have taken him to over 40 countries, on all seven continents, from the midst of hurricanes such as Sandy and Katrina, to tracking tornadoes in Oklahoma. He's been to the radioactive zone of Chernobyl, and the far reaches of the Arctic & Antarctica. He even got married on the crater's edge of an exploding South Pacific volcano.
His exploits have been seen in several hundred television appearances including: Discovery Channel, BBC, CNN, National Geographic Explorer, History Channel, The Weather Network, and his own TV series he "Angry Planet", which he hosted and co-created and has been broadcast in over 100 countries worldwide.
Some of his expeditions have included: Setting foot on a brand new volcanic island in Tonga that had recently erupted out of the sea. Swimming ashore due to rough waters, the ground was still hot to the touch; he became the first person to ever rig ropes across the Boiling Lake in Dominica and document it from above; in Indonesia, he measured ph levels on the world's largest lake of sulphuric acid by taking a small rubber raft out to the middle; with 15 years of tornado chasing and 17 hurricanes under his belt, he's also one of the most experienced storm chasers in the world.
George is a fellow of the Explorers Club and the Royal Canadian Geographic Society. He was twice nominated for Gemini Awards for his work on Angry Planet and regularly speaks at events around the world, including 4 TEDx conferences. He resides with his wife in Toronto.

Recommended Tours
Custom Private Tour
The centuries peel away as you stroll among the ancient, other-worldly rock formations at the remarkable Canyonlands National Park where the shifting shadows play tricks on your imagination.
More Info
Custom Private Tour
Take a deep breath as you find the courage to repel down a sheer cliff face and into a pristine pine forest pool where you'll swim through a silent granite slot as the walls of a narrow canyon rise 200 feet above you.
More Info