Tornado Chase 2013 - Local Flavor

Kensington Tours' Explorer-in-Residence, George Kourounis, continues to send dispatches from his month long journey across the heartland of the U.S. as he criss-crosses the region known as "Tornado Alley". Here, storms can tower over twice the height of Mount Everest and concentrate all their energy on a single point where a tornado grinds up a farmer's field. George's 15 years of experience as a renowned storm chaser enables him to be at the right place at the right time to witness these jaw dropping forces of nature.
May 6, 2013 - Snow Storm (Amarillo, Texas)
No matter where your travel adventures take you, a big part of that is going to be experiencing the local culture and food. It's no different when out on a storm chase trip in the central states of the U.S.
With a few more days left to wait before the weather forecast gets stormy and we actually have something to chase after, I've relocated to Amarillo, Texas. Smack dab in the middle of the Texas Panhandle where real cowboys still roam the ranch-land and they proudly serve up that aged beef in Texas-sized portions that would make even the hungriest lumberjack wave a white flag of surrender.
The best spot in town to partake of this beefy bounty is the legendary Big Texan Steak Ranch. Originally an attraction on Route 66, the gaudy but very popular restaurant has long been the go-to steak house for us storm chasers. It's not uncommon to meet friends from around the world, all converging on The Big Texan, especially if a storm has recently passed through town.
Did I mention the steaks are big?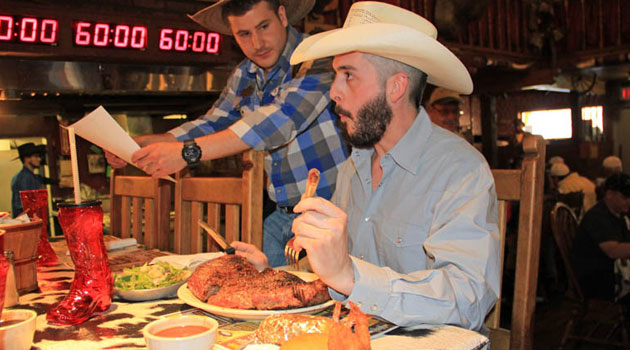 Well, big is a bit of an understatement. They are probably best known as being the originators of the 72 oz steak dinner challenge. That's four and a half pounds of meat! If you can finish it in an hour, the meal is free. Oh, but it's not just the huge steak (which is about the size of a motorcycle seat), you also have to finish all the trimmings that go along with it including the salad, baked potato, shrimp and dinner roll. If you get up from the seat or if the meal can't stay down, you are disqualified. Sound appetizing?
Well I actually tried the challenge a few years ago (I failed, no surprise) and although the steak itself is really quite delicious. The problems begin about 20 minutes into the hour long challenge when you start getting sick of the taste of steak. I didn't realize that this was possible. Also, your jaw gets pretty tired from all the chewing. It doesn't help matters much that they sit you up on a stage in front of hundreds of people, start a digital counter and send the entire food-orgy out on the internet via a webcam.
Only the most worthy sirloin soldiers can complete this task and about 48,000 people have attempted it over the years with only about 8000 have succeeded. BTW, the record holder did it in 8 minutes and 52 seconds!!
While I sit here, eating my modest sized 12 oz fillet, I'm also looking ahead at the weather forecast. If things play out the way the computer models suggests, we might see some unstable conditions in a couple of days - perhaps in western Kansas. I'm starting to get impatient, but that's an important part of storm chasing. Being able to wait out the dry periods and be ready to roll when the skies turn black.
MORE ABOUT GEORGE KOUROUNIS:

George is a world renowned explorer, adventurer, storm chaser and television presenter who specializes in traveling the globe, photographing the most extreme forces of nature. His adventures have taken him to over 40 countries, on all seven continents, from the midst of hurricanes such as Sandy and Katrina, to tracking tornadoes in Oklahoma. He's been to the radioactive zone of Chernobyl, and the far reaches of the Arctic & Antarctica. He even got married on the crater's edge of an exploding South Pacific volcano.
His exploits have been seen in several hundred television appearances including: Discovery Channel, BBC, CNN, National Geographic Explorer, History Channel, The Weather Network, and his own TV series he "Angry Planet", which he hosted and co-created and has been broadcast in over 100 countries worldwide.
Some of his expeditions have included: Setting foot on a brand new volcanic island in Tonga that had recently erupted out of the sea. Swimming ashore due to rough waters, the ground was still hot to the touch; he became the first person to ever rig ropes across the Boiling Lake in Dominica and document it from above; in Indonesia, he measured ph levels on the world's largest lake of sulphuric acid by taking a small rubber raft out to the middle; with 15 years of tornado chasing and 17 hurricanes under his belt, he's also one of the most experienced storm chasers in the world.
George is a fellow of the Explorers Club and the Royal Canadian Geographic Society. He was twice nominated for Gemini Awards for his work on Angry Planet and regularly speaks at events around the world, including 4 TEDx conferences. He resides with his wife in Toronto.