Tornado Chase 2013 - Supermodel Storm

Kensington Tours' Explorer-in-Residence, George Kourounis, continues to send dispatches from his month long journey across the heartland of the U.S. as he criss-crosses the region known as "Tornado Alley". Here, storms can tower over twice the height of Mount Everest and concentrate all their energy on a single point where a tornado grinds up a farmer's field. George's 15 years of experience as a renowned storm chaser enables him to be at the right place at the right time to witness these jaw dropping forces of nature.
May 27, 2013 - Supermodel Storm
Every once in a while, everything just clicks and amazing things happen, even when it involves something as complex and chaotic as the atmosphere.
These are the kinds of days I live for, and when all the ingredients come together, it can be very dramatic, almost magical.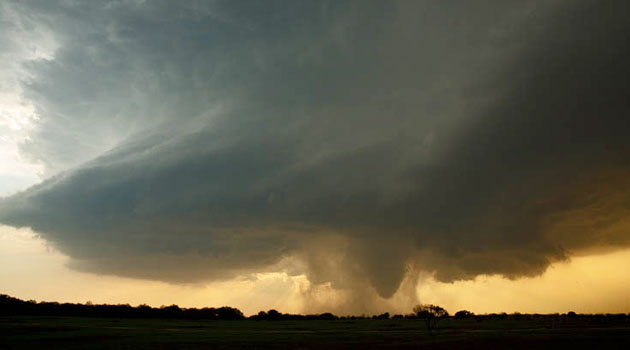 The risk this day was low. Significant tornadoes were not expected, but the possibility was there and we were debating whether or not to completely blow off the day and blast north in order to get into better position in Kansas for the following day. Alternately, we could stay in Texas for one more day and see how the forecast pans out. It would mean a longer drive into the night, but it might be worth it.
Was it ever...
One, solitary, slow moving supercell thunderstorm formed near the tiny town of Eliasville (don't blink or you'll miss it) and it became our target for the day. The problem was that in between us and the part of the storm where a tornado was likely to form was a rather nasty looking core, filled with torrential rain and giant hail. Giant is no exaggeration, the stones this storm was lobbing out were huge!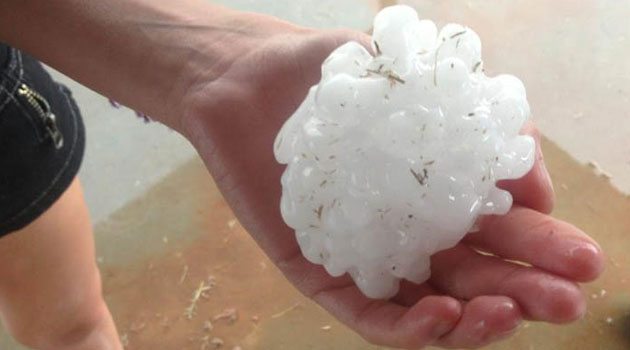 As the worst of it started to come down, our convoy of 3 vehicles scrambled to find some kind of shelter from the hail. Anything. We don't mind getting dented up, but breaking glass is not something we were interested in doing.
It happens every now and then, but we try to avoid the biggest stuff.
Replacing glass is expensive and time consuming. Luckily, there were a few covered carports in town and with the van's glass protected, we could get out and get a better look. Although not the safest idea, I did cover my head and very briefly dash out into the maelstrom to grab a few of the largest hail stones. Some were 3 to 4 inches in diameter. Bigger than a softball!
Hail that large has been known to kill people unfortunate enough to get caught out in it without shelter.
As the worst of the hail passed our location, we continued south to the rain-free base. A part of the storm where the updraft of warm air is rising and the visibility is best.
It took a while, but our storm finally decided to put on an amazing show. It was barely moving, parked over one area and spinning like a giant corkscrew in the sky. It dropped a very wide funnel cloud that extended down more than halfway to the ground. We couldn't verify if it had actually touched the ground, but soon there would be no doubt. The funnel reformed and snaked its way towards the Texas countryside, a debris swirl appeared on the ground. We have contact! Tornado!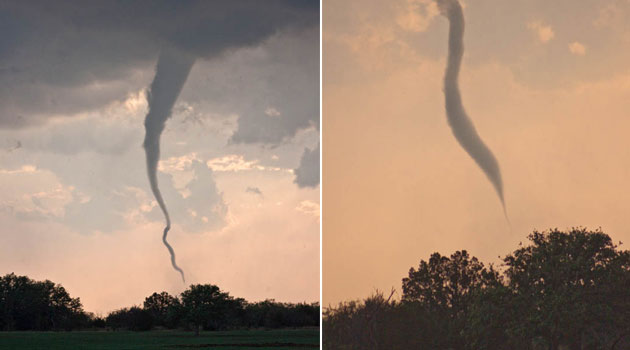 The tornado posed for us like a supermodel doing a cover shoot for a glamour magazine. It twisted and changed shape, barely moving as it spun in place.
We were not able to get very close to it due to the lack of roads in this part of rural Texas, but it was beautiful, even from a distance. In fact it was quite calm where we were. No blasting wind, no rain, birds chirping.
This day was not about the powerful destructive force of tornadoes, we'd seen too much of that already on this trip. No, today was about the beauty of nature doing its thing, about us standing on the outside, looking in at a mighty force, but with no fear, no safety concerns, just awe.
I wish I had more days like these. Days that take your breath away.
Video Link:
http://www.youtube.com/watch?v=IDUnqTEJGVQ
MORE ABOUT GEORGE KOUROUNIS:
George is a world renowned explorer, adventurer, storm chaser and television presenter who specializes in traveling the globe, photographing the most extreme forces of nature. His adventures have taken him to over 40 countries, on all seven continents, from the midst of hurricanes such as Sandy and Katrina, to tracking tornadoes in Oklahoma. He's been to the radioactive zone of Chernobyl, and the far reaches of the Arctic & Antarctica. He even got married on the crater's edge of an exploding South Pacific volcano.
His exploits have been seen in several hundred television appearances including: Discovery Channel, BBC, CNN, National Geographic Explorer, History Channel, The Weather Network, and his own TV series he "Angry Planet", which he hosted and co-created and has been broadcast in over 100 countries worldwide.
Some of his expeditions have included: Setting foot on a brand new volcanic island in Tonga that had recently erupted out of the sea. Swimming ashore due to rough waters, the ground was still hot to the touch; he became the first person to ever rig ropes across the Boiling Lake in Dominica and document it from above; in Indonesia, he measured ph levels on the world's largest lake of sulphuric acid by taking a small rubber raft out to the middle; with 15 years of tornado chasing and 17 hurricanes under his belt, he's also one of the most experienced storm chasers in the world.
George is a fellow of the Explorers Club and the Royal Canadian Geographic Society. He was twice nominated for Gemini Awards for his work on Angry Planet and regularly speaks at events around the world, including 4 TEDx conferences. He resides with his wife in Toronto.