Tornado Chase 2013 - Texas Twisters

Kensington Tours' Explorer-in-Residence, George Kourounis, continues to send dispatches from his month long journey across the heartland of the U.S. as he criss-crosses the region known as "Tornado Alley". Here, storms can tower over twice the height of Mount Everest and concentrate all their energy on a single point where a tornado grinds up a farmer's field. George's 15 years of experience as a renowned storm chaser enables him to be at the right place at the right time to witness these jaw dropping forces of nature.
May 16, 2013 - Texas Twisters (Milsap, Clayburne)

I love getting up close to all extreme forces of nature, from hurricanes and volcanoes, to desert sand storms and avalanches. These natural phenomena are not necessarily natural disasters; they are just the means that nature uses to keep equilibrium in our environment. When these natural forces impact human populations, that's when they make the transition from natural phenomena to natural disasters. That's exactly what happened in Texas.
I can't stop tornadoes from hitting towns, but I can be there to document them and show the world what these storms are really capable of.
The forecast was marginal. There was a risk of tornadoes, but we never expected there to be an extensive outbreak of strong twisters. The day's routine was typical. Plenty of waiting around in our north Texas target area, hanging out at a gas station, meeting other storm chasers that we only get to see once a year. It was warm and humid and puffy cumulus clouds were starting to grow overhead.
A few storms started to quickly grow to our east, a little farther away than we'd anticipated, so the race was on. As the storms grew, we planned our approach and picked the one that we thought had the best tornado potential and was close enough for us to get to. Drifting southeast through small town after small town our target storm really started to get its act together and we were just hoping that we wouldn't miss the tornado.
As we got to the town of Milsap, a slender funnel quickly dropped from the cloud base and we could see a swirl of dirt and debris on the ground...
Tornado!!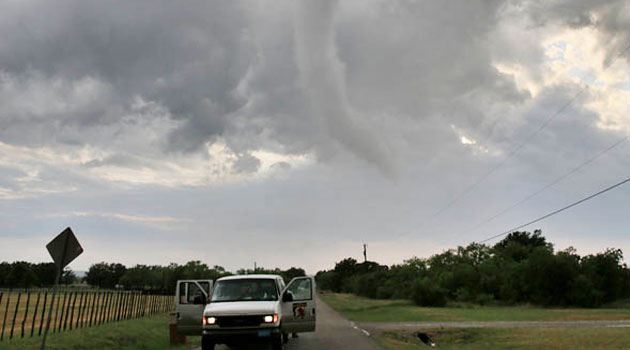 One important and difficult thing to do while storm chasing is judging the direction and speed of a tornado, and this one was puzzling. It was moving in a different direction than we were expecting, so there was a few moments of frenzy as we made sure we were not directly in its path. Usually, they follow the same direction and speed as the storm that they spawn from, but occasionally, they can orbit around the main rotation of the storm, like a carousel, making it a lot harder to judge the tornado's path.
Once we felt safe, we stopped and watched. The funnel got wider and wider, and we could see the debris cloud get bigger. We were close enough that we could actually hear the sound of the tornado. Some say it sounds like freight train, and I guess it would if you were huddled in your basement as it passed over your house, but from the outside, they sound more like a waterfall to me.
It was a beautiful tornado. Very photogenic and as it died out it got slender and went through what we call, a "rope out" phase when the funnel dissipates. Luckily, there were no injuries and the only damage was to a barn.
We continued on, but the road network just didn't allow us to keep up with this storm. It was painful for me to have to drive away from it, but there was no real other choice. Luckily, there was another supercell storm to the south that also had a tornado warning on it. We could get to it, but it would require going through some small towns along the way. One of those towns was Granbury. At the time, we had no idea that a very large and damaging tornado was going through the town, destroying a neighborhood and causing at least 6 fatalities. We never spotted that tornado, but as we zig-zagged through town, the tornado alert sirens were blaring and there were some huge hail stones scattered everywhere, some were easily as big as baseballs. It wasn't until hours later that we learned that a suburb had taken a direct hit from an EF-4 rated tornado.
We had no time to stop, and light was fading quickly. Once we got into better position on this new storm, we could see the entire shape of it, and it was breathtaking. Imagine a scene from a science fiction film where a giant alien mother ship descends down from the sky. It didn't even look real at times.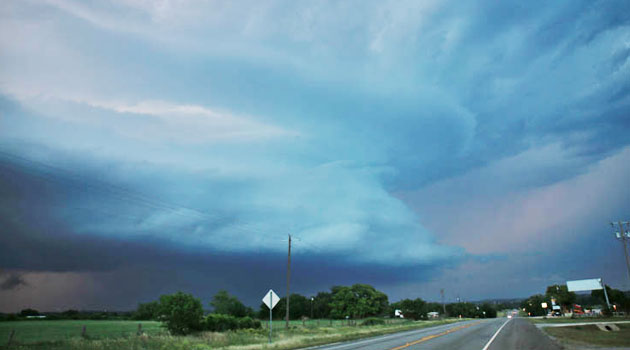 The storm was still tornado warned and we were worried that it might produce another tornado and hit the town of Clayburne. We got up as close as we dared, now in almost total darkness. The rain was coming down in sheets and the lightning was flashing several times a second. Our radar screen showed us that the rotation was very strong and was likely to cross the road just ahead of us. It is situations like this that cause me to dig my fingernails a little deeper into the steering wheel. It looked like it was going to pass just south of town. That was a relief, but we were still in the extreme danger zone and I held back from going too fast or risk driving into a rain-wrapped, tornado in total darkness.
Spotting a tornado at night is extremely difficult. The only way to see it is in the brief flashes of lighting, and under those stressful conditions, every single low hanging cloud looks like a tornado in the murky darkness.
Then suddenly, there was a HUGE blue-green explosion directly in front of us. It wasn't a lightning bolt, it was a power flash from an exploding electrical transformer or downed power lines. Although we couldn't see it, a large tornado had just crossed the road right ahead of us. Then another explosion and then another. Whatever was in there was huge and I had no intention of driving right into it. We stopped and waited a few minutes for it to pass. When we felt it was safe, we continued east, knowing that there was a dangerous tornado to our south, but the good news was that it had crossed the road and that meant we were in the clear. Tornadoes almost never loop back and changed direction.
Almost never.
We parked at the side of the road for a few minutes as I looked at the laptop and studied the radar screen. As I stepped through the images in a loop, I noticed that the rotation had indeed started to take a hard left turn and was coming back towards us! After much swearing and a frantic U-turn, we got out of the path of this invisible monster and retreated with our tail between our legs. It was a close call. The storms had been doing some irregular things all day and this one was no exception.
Because of the sharp turn the tornado took, it actually did end up going into the town of Clayburne and doing damage. I have not heard of any fatalities.
It was an intense day filled with the full range of emotions. From the joy of finding a needle in a haystack and filming a photogenic tornado, to the rush of adrenaline and fear of a night time tornado encounter to the sadness of knowing that others have lost loved ones in the disaster.
Our being there to document the storms can't stop them from happening but at least we can help the authorities know what we see by sending in our immediate storm reports. In the end, that can at least help to save some lives.
MORE ABOUT GEORGE KOUROUNIS:
George is a world renowned explorer, adventurer, storm chaser and television presenter who specializes in traveling the globe, photographing the most extreme forces of nature. His adventures have taken him to over 40 countries, on all seven continents, from the midst of hurricanes such as Sandy and Katrina, to tracking tornadoes in Oklahoma. He's been to the radioactive zone of Chernobyl, and the far reaches of the Arctic & Antarctica. He even got married on the crater's edge of an exploding South Pacific volcano.
His exploits have been seen in several hundred television appearances including: Discovery Channel, BBC, CNN, National Geographic Explorer, History Channel, The Weather Network, and his own TV series he "Angry Planet", which he hosted and co-created and has been broadcast in over 100 countries worldwide.
Some of his expeditions have included: Setting foot on a brand new volcanic island in Tonga that had recently erupted out of the sea. Swimming ashore due to rough waters, the ground was still hot to the touch; he became the first person to ever rig ropes across the Boiling Lake in Dominica and document it from above; in Indonesia, he measured ph levels on the world's largest lake of sulphuric acid by taking a small rubber raft out to the middle; with 15 years of tornado chasing and 17 hurricanes under his belt, he's also one of the most experienced storm chasers in the world.
George is a fellow of the Explorers Club and the Royal Canadian Geographic Society. He was twice nominated for Gemini Awards for his work on Angry Planet and regularly speaks at events around the world, including 4 TEDx conferences. He resides with his wife in Toronto.