Tornado Chase 2013 - Tornado Warning

Kensington Tours' Explorer-in-Residence, George Kourounis, continues to send dispatches from his month long journey across the heartland of the U.S. as he criss-crosses the region known as "Tornado Alley". Here, storms can tower over twice the height of Mount Everest and concentrate all their energy on a single point where a tornado grinds up a farmer's field. George's 15 years of experience as a renowned storm chaser enables him to be at the right place at the right time to witness these jaw dropping forces of nature.
May 14, 2013 - Tornado Warning
I don't know if the rain dance I did in the motel parking lot helped at all, but things have been busy down here in Texas. Well, at least as far as us storm chasers are concerned. Originally, the forecast didn't seem to have a lot of tornado potential, but yet we managed to chase 3 supercell storms across the Lone Star State, two of which were tornado warned.
The first storm with a tornado warning on it was near the town of Buffalo Gap. It looked really good on our radar screen but was difficult to get to because we were approaching from the north and the view was mostly obscured by intense curtains of rain. We did eventually get to the business end of the storm and it had a nice, round, striated look to it, kind of like a flying saucer hovering in the clouds.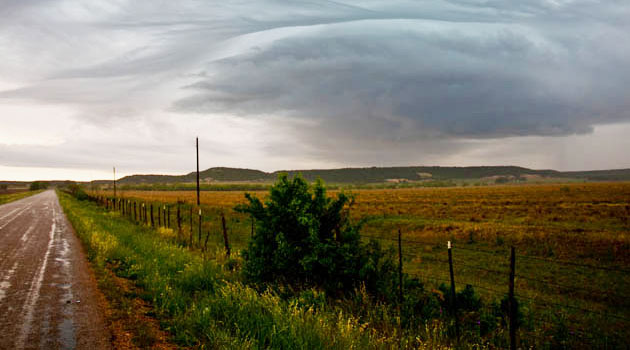 A quick note on the difference between a tornado "watch" and "warning":
Whenever the National Weather Service issues a tornado watch, it means that conditions are in place for the possible development of storms that are capable of producing tornadoes later in the day. These are usually issued several hours before storms are expected. When a watch is in place for your area, you should keep alert and pay closer attention to the weather than you normally would. A tornado warning however, means that a tornado is imminent or occurring in your area. During a tornado warning, it's time to take action. Get to the basement or interior room or closet. Danger is nearby.
For me, this means that it's time to hit the record button on my camera.
Despite the tornado warning, no tornado actually formed, but we were far from done for the day.
Our second storm of the day was very dramatic with terrific looking structure and some pretty big hail, about golf ball size or slightly larger. We took quite a pounding a few times as we played a game of cat and mouse with the storm for a good part of the afternoon; getting ahead of the storm, then falling behind as the winding roads forced us to drift in and out of good viewing position. Somehow we managed to not crack the windshield in all the hail, but it came pretty close a few times. The day had been a good one, but we were still not quite done yet!
The last storm of the day also became a tornado warning, just as our daylight was starting to fade. At one point, we pulled over to try and get a better look at it when all of a sudden a VERY close lightning bolt struck. We even saw a shower of sparks erupt from a nearby power pole and heard a quick sizzle sound, right before the big clap of thunder. I fear lightning a lot more than I do tornadoes - at least I can see the tornado coming.
A few minutes later, our storm started lobbing some very big hail at us, so we scrambled to get out of the way and continued on to the town of Fredericksburg where we thought the biggest hail might strike. We took shelter under a gas station awning as the rotating part of the storm passed close by. The hail missed our location, but it was a much more intense day than we were anticipating and that's what we love to experience.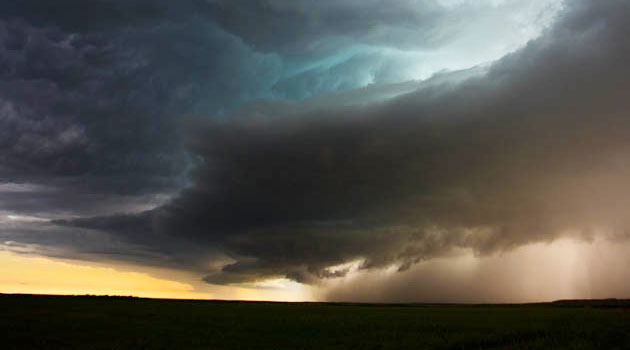 MORE ABOUT GEORGE KOUROUNIS:
George is a world renowned explorer, adventurer, storm chaser and television presenter who specializes in traveling the globe, photographing the most extreme forces of nature. His adventures have taken him to over 40 countries, on all seven continents, from the midst of hurricanes such as Sandy and Katrina, to tracking tornadoes in Oklahoma. He's been to the radioactive zone of Chernobyl, and the far reaches of the Arctic & Antarctica. He even got married on the crater's edge of an exploding South Pacific volcano.
His exploits have been seen in several hundred television appearances including: Discovery Channel, BBC, CNN, National Geographic Explorer, History Channel, The Weather Network, and his own TV series he "Angry Planet", which he hosted and co-created and has been broadcast in over 100 countries worldwide.
Some of his expeditions have included: Setting foot on a brand new volcanic island in Tonga that had recently erupted out of the sea. Swimming ashore due to rough waters, the ground was still hot to the touch; he became the first person to ever rig ropes across the Boiling Lake in Dominica and document it from above; in Indonesia, he measured ph levels on the world's largest lake of sulphuric acid by taking a small rubber raft out to the middle; with 15 years of tornado chasing and 17 hurricanes under his belt, he's also one of the most experienced storm chasers in the world.
George is a fellow of the Explorers Club and the Royal Canadian Geographic Society. He was twice nominated for Gemini Awards for his work on Angry Planet and regularly speaks at events around the world, including 4 TEDx conferences. He resides with his wife in Toronto.