Tornado Chase 2013 - Twister With A Twist

Kensington Tours' Explorer-in-Residence, George Kourounis, continues to send dispatches from his month long journey across the heartland of the U.S. as he criss-crosses the region known as "Tornado Alley". Here, storms can tower over twice the height of Mount Everest and concentrate all their energy on a single point where a tornado grinds up a farmer's field. George's 15 years of experience as a renowned storm chaser enables him to be at the right place at the right time to witness these jaw dropping forces of nature.
May 18, 2013 - Tornado With A Twist
I don't know what it is about Kansas. It has treated me well over the years even though the state itself really doesn't have a lot to offer a visitor in search of adventure. There are no mountains to climb, no whitewater rapids, nothing. Someone once told me that Kansas is so incredibly flat that if you were to enlarge a regular pancake, up to the size of the entire state, that Kansas would indeed be, literally, flatter than a pancake. I don't know what kind of bored scientist or geographer took the time to calculate that, but it's a great anecdote, and I believe it to be true, having criss-crossed countless times. There are not too many small towns left in Kansas that I haven't been through in my storm chasing escapades over the years.
Part of why I'm so enamored with the place is that I seem to witness most of my tornadoes there. We already know how flat it is, and the road networks are pretty good. The mobile phone data network is relatively solid (compared to the "data black hole" of northwestern Oklahoma that we dread so much), and the storms typically cooperate, often producing large tornadoes that manage to not hit much in the way of settlements.
Recently, we had just such an encounter, near the town of Bennington, north of Salina.
Our forecast had panned out and storms were building up quickly as we re-positioned to get up close to the strongest looking one, which also just happened to be the closest storm to our location. I love it when a plan comes together. We cut west through Bennington and stopped at a T-junction.
The rotating part of the storm, the mesocyclone, was just off to our west, over a stand of trees. Yes, trees are rare in Kansas, but they do have them, usually blocking my line of sight at the most inopportune times. For the time being, we held our position and waited for the storm to come to us.
As the circulation intensified, a funnel began slowly snaking its way down from the cloud base on its way towards a nearby farmer's field. Soon, a swirl of dirt and debris was spotted being lofted above the trees. We now had a tornado on the ground and it was getting wider, and wider until it was a thick cone, firmly planted and grinding away! We snapped photos like mad while we kept waiting for it to get closer. Still waiting. What what going on? This thing should've been passing us to the north, but it was just sitting there, spinning away, but barely moving forward. I ran back to the vehicle and double checked the radar screen. Yep, it was parked, just west of town and seemed to have no intention of moving anywhere. the storm had stalled out, while it was producing a major tornado. This never happens.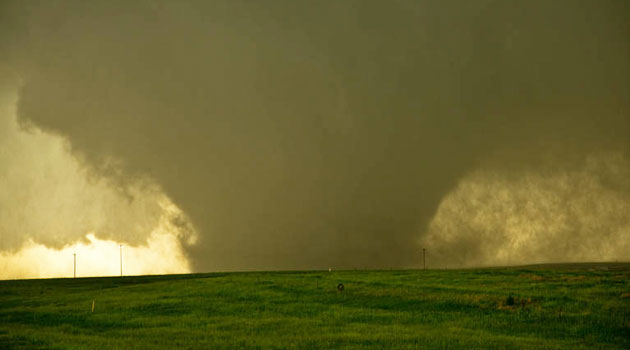 I shouted to the rest of the team to hop back into the vehicles so that we could relocate. If it wasn't going to come to us, then damn it, we were going to go to it. That is what chasing tornadoes is all about right?
Unfortunately, the nearly stationary tornado had now become almost completely wrapped in rain and was difficult to see.
We dropped a bit south, then west, to a better, closer vantage point. Soon after we stopped, the tornado revealed itself again. The rain curtains parted and there it was, a huge, obviously violent, dark wedge. The tornado continued to barely move, drifting slightly southwest before getting wrapped up in rain yet again. I've never seen such a strong tornado sit in one place for so long. We were close enough to hear the waterfall roar of the tornado and it looked like it meant business.
It just so happened that at that very moment, I was scheduled to do a LIVE Twitter interview for Canadian Geographic Magazine. It couldn't have worked out any better. The storm was stationary and wasn't going anywhere, so I had time to dash back and forth between taking photos of the storm and posting iPad updates on Twitter, while also answering their questions. In the future it's going to be difficult convincing them that I don't actually control the weather and I hope they don't want an encore performance next storm season.
I doubt that such serendipity would happen 2 years in a row.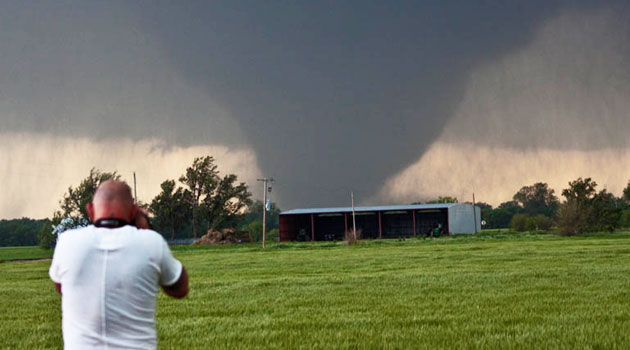 In total, the tornado was on the ground for close to an hour. It was rated an EF-4 and was between 1/4 to 1/2 of a mile wide at times. It's path was what made it so odd and unique. It had started off drifting southeast, then curved north, then back to the southwest in a track that somewhat resembled one of those "support our troops" ribbons, turned on its side. Luckily, there were no serious injuries or fatalities, however a herd of over 100 cattle were killed. Another interesting thing about this tornado is that, because of its size and the looping path it took, there were some areas that were directly underneath the tornado for a continuous total of about 15 minutes! Usually when a tornado strikes, it's over in a matter of seconds. I can't imagine what that would've been like to have be in, or if it had happened over a populated area rather than open pasture. The nearby towns got lucky. This time.
Video Link:
http://www.youtube.com/watch?v=Qe1l7fXAfb0
MORE ABOUT GEORGE KOUROUNIS:
George is a world renowned explorer, adventurer, storm chaser and television presenter who specializes in traveling the globe, photographing the most extreme forces of nature. His adventures have taken him to over 40 countries, on all seven continents, from the midst of hurricanes such as Sandy and Katrina, to tracking tornadoes in Oklahoma. He's been to the radioactive zone of Chernobyl, and the far reaches of the Arctic & Antarctica. He even got married on the crater's edge of an exploding South Pacific volcano.
His exploits have been seen in several hundred television appearances including: Discovery Channel, BBC, CNN, National Geographic Explorer, History Channel, The Weather Network, and his own TV series he "Angry Planet", which he hosted and co-created and has been broadcast in over 100 countries worldwide.
Some of his expeditions have included: Setting foot on a brand new volcanic island in Tonga that had recently erupted out of the sea. Swimming ashore due to rough waters, the ground was still hot to the touch; he became the first person to ever rig ropes across the Boiling Lake in Dominica and document it from above; in Indonesia, he measured ph levels on the world's largest lake of sulphuric acid by taking a small rubber raft out to the middle; with 15 years of tornado chasing and 17 hurricanes under his belt, he's also one of the most experienced storm chasers in the world.
George is a fellow of the Explorers Club and the Royal Canadian Geographic Society. He was twice nominated for Gemini Awards for his work on Angry Planet and regularly speaks at events around the world, including 4 TEDx conferences. He resides with his wife in Toronto.