Where To Sleep: Gamirasu Cave Hotel, Turkey

I've visited Turkey a few times and on every occasion, I've ceased the opportunity to visit Cappadocia. It is a region that is well known for its unreal landscape of rock formations, gorges and underground cities. Traveling as a Kensington destination specialist means that I'm always on the look out for unique and extraordinary places to stay. It is a benefit of the trade as I've stayed in some incredible properties that easily made my experience even more memorable. During my recent tour of Turkey, I spent a lot of time outside in the rugged playground of Cappadocia. There are a quite a few subterranean residences in the region to sample but I chose to take a load off at the Gamirasu Cave Hotel and I've been raving about this decision since!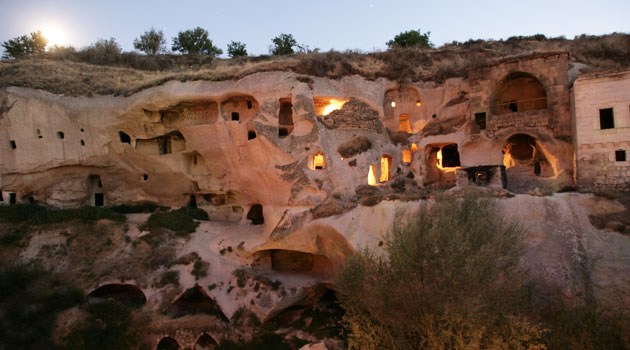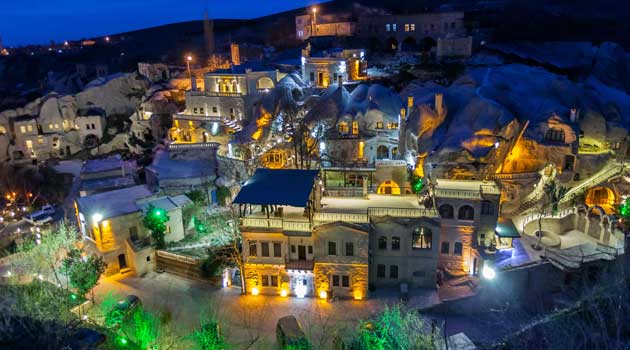 Shaped by centuries of wind and rain, the lunar landscape of Cappadocia is made up of impressive gorges and hollowed-out pillars of rock popularly known as fairy chimneys. While the arid region can feel somewhat isolated, the Gamirasu hotel offers a warm welcome into cozy caves.
The hotel maintains that it is actually a restored Byzantine monastic retreat dating back some 1,000 years ago. Upon first glance, I was taken aback by the wildly rare features that make up the exterior Gamirasu; surreal sculpture of bulbous rock surfaces, sun-baked scrub bush and a tree growing out of one of the few free-standing buildings. Elsewhere, small rounded holes into the stone form doorways into the hotel rooms.
The 25 rooms are cave like with rough-cut roofs and undulating walls that make a cool retreat from the Turkish heat. The surrounding volcanic rock from which the hotel is built is called "tufa" and is the perfect insulation material as it keeps the temperature between 17-20 degrees Celsius throughout the year. The rooms are surprisingly spacious and decorated with finely carved wooden furniture and sprawling throw rugs. Upon entering my exquisitely restored room, I thought back to the hotel's history and what it must have looked like when the it was used by Christian monks. Some of the aboveground rooms have windows and large, beautifully arched roofs of sanded stone. Few suites feature fireplaces, that keeps these Turkish nooks warm during cold nights.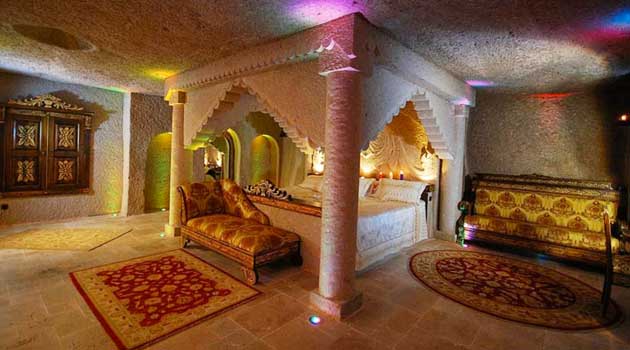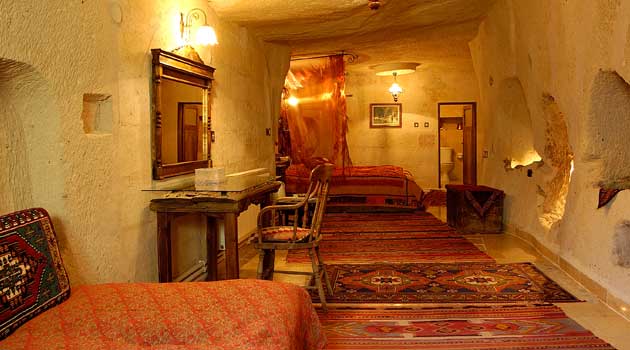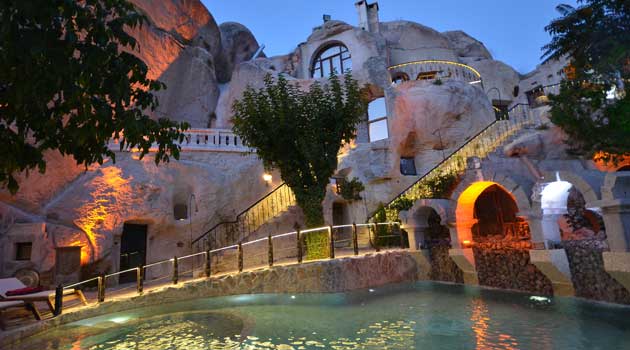 Beyond the rooms, the activities that Gamirasu offer within the hotel and in the surrounding area definitely worth trying. Those looking to continue the relaxing nature of the hotel can indulge in full-body massages or else partake in yoga and massage therapy. If you're looking to get your hands dirty, there is also a Turkish cooking course which embraces old culinary traditions, teaching the basics of traditional Cappadocian and Turkish cuisine. To get closer to the source, visitors can also join in on a number of harvesting activities on local organic farmland. Learn how to make wine, cook jam and bake bread, among other skills.
If you're interested in burrowing in a cave hotel that's carved from an ancient lanscape and is bursting with character, then Gamirasu Cave Hotel is definitely worth checking out on any tour of Cappadocia.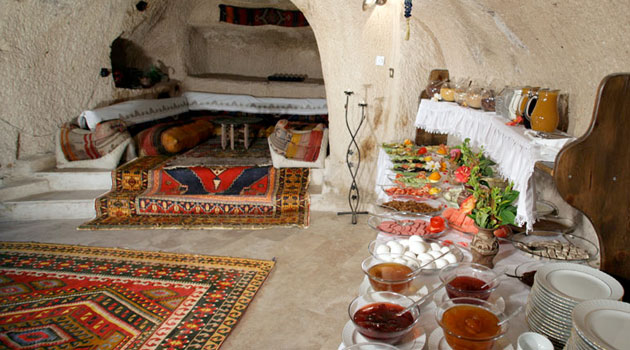 Recommended Tours
Custom Private Tour
Gather your courage as you descend into the darkness of the eerie underground cities of Kaymakli and Derinkuyu where Christians fled to escape 7th-century persecution.
More Info
Custom Private Tour
An action packed adventure that includes mountain biking and hiking at some of Cappadocia most famous sites , as well as canoeing and sailing in the turquoise seas. With a diverse landscape, gorgeous coastline and fascinating history Turkey is a great destination for an active holiday.
More Info
Custom Private Tour
Ancient homes carved directly into the cliff face at Cappadocia cast long, eerie shadows as you stroll amongst these remarkable centuries-old architectural achievements and ponder life as it must have been for their long-forgotten residents.
More Info