Add some natural beauty to your tour of China with a visit to Jiuzhaigou National Park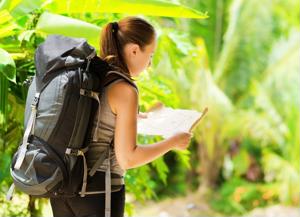 Setting off on an adventure is often one of the most appealing aspects of any trip, and that's no different when it comes to a tour of China. The vast nation has plenty of opportunities for exploration, but if you're looking for one that stands above the rest, head to Jiuzhaigou National Park. Located in the Jiuzhaigou Valley, this natural enclave offers spectacular hiking opportunities that will stick with you for years to come.
The enormous park can take days to explore fully, and there are several areas in particular that you should make a point to visit. For instance, stopping by the Rize Valley is a must. This region of the park includes several distinct highlights, most notably the Primeval Forest, which will leave you feeling like you've stepped out of a time machine. A well-preserved woodland, the Primeval Forest is not only a natural wonder on its own, but it offers breathtaking views of the park's mountain's, cliffs and its iconic Sword Rock.
Of course, the Rize Valley is not the only area of Jiuzhaigou National Park that you need to experience. You should also work your way to one of the valley's many bodies of water, including the serene shores of Panda Lake. While Giant Pandas may have long since stopped coming to the lake, its placid waters still offer one of the best views you'll see in the entire park. Surrounded by lush forests on all sides, the water exudes a blue and green shine that will certainly leave a lasting impression.
After stopping by Panda ALake, you may be enticed to see some of the other bodies of water in the park including Five Flower Lake, which is the deepest in the valley.
Recommended Tours
Custom Private Tour
As the sun sets over the vast temple network of Angkor Wat, find yourself a bend in the ancient maze and soak up all the serene magic of this spiritual land.
More Info
Custom Private Tour
This customizable tour puts the must-sees of Thailand at your fingertips. From Cosmopolitan Bangkok to cooking classes, long-tailed boat rides and stunning beaches you'll be immersed in new experiences that reveal the magnificent culture and people of this land.
More Info
Custom Private Tour