Political situation can't stop Bangkok tourism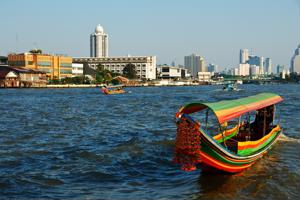 From a political perspective, Bangkok has hardly been a traveler's paradise lately. A military coup in May caused outbreaks of violence in the country, and the military presence was unsettling for some, according to CNN. However, a MasterCard report showed that when it comes to international tourism, there's very little that can cause Bangkok to lose steam.
One of the most visited cities on Earth
Despite the changing political identity of the country and governmental turbulence, Bangkok was still hailed as the No. 2 most visited city on Earth in terms of international tourists. Expected to attract 16.42 million foreign travelers, the only city that has Bangkok beat is London, and that's after the country's 8 percent surge in visitors and Bangkok's 11 percent decline over the year. Nonetheless, tourists just can't help but come see the sights at this popular city and island destination - even if the country is in a state of flux.
Back to business as usual
Rather, the country was in a state of flux. According to CNN, curfews have been lifted in many of the Thai hot spots and the military presence has been minimal, with many reporting rarely seeing soldiers. Better yet, business at tourist attractions, embassies, shops and the like has returned to normal. Moreover, the U.S. Department of State downgraded its warning about Thailand to a travel alert as of June 20.
Luckily, the government conflict also occurred during the country's rainy season. Because travel is largely seasonal, the political unrest didn't take too much away from the tourism industry. Now, eager travelers are free to enjoy the latter parts of the rainy season or the dry season, which begins in November, according to BBC Travel. Seeing tourist attractions such as the "Emerald Buddha" - a giant sculpture over 18 feet tall sculpted from a single piece of jade - has become simple once again.
If you consider the bustling Bangkok thoroughfare one of the most attractive parts of an international getaway, you may want to head to Cape Town in South Africa for more busy city adventures. Unlike Bangkok, the gargantuan mountains and the beautiful beaches are what stick out the most in this city. An alluring combination of natural sights and interesting energetic city life, a trip to Cape Town is sure to excite nature lovers and urban aficionados alike.
Recommended Tours
Custom Private Tour
As the sun sets over the vast temple network of Angkor Wat, find yourself a bend in the ancient maze and soak up all the serene magic of this spiritual land.
More Info
Custom Private Tour
This customizable tour puts the must-sees of Thailand at your fingertips. From Cosmopolitan Bangkok and jungle elephant safaris to cooking classes, long-tailed boat rides and stunning beaches you'll be immersed in new experiences that reveal the magnificent culture and people of this land.
More Info
Custom Private Tour