Add some coastal charm to your tour of Portugal with a visit to Algarve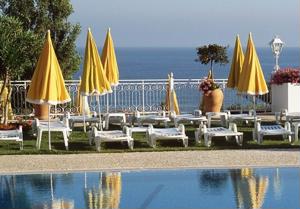 As the weather warms up, chances are that travelers everywhere are looking for the best places to enjoy the sun, sand and surf, and when it comes to Portugal tours, Algarve is the best choice. The name given to the country's southernmost region, Algarve has become a large tourist draw not only because of its beautiful coastline but also because its relaxing atmosphere combined with numerous opportunities for adventure travel make it a highlight of many tours of Portugal.
Perhaps the most well-known aspect of Algarve is its near perfect weather. Along with plenty of sunshine, the temperatures regularly reach the high 70s by the middle of May, but warmth is not the only appealing part of its climate. Algarve is also relatively dry, so you won't have to spend a day or two of your Portugal tour holes up in your hotel waiting for storm clouds to pass you by. Whether you want to spend your days at the beach or explore the region's many streets, you won't be disappointed.
Algarve encompasses a large number of towns and cities, and if you're having a hard time deciding which to visit, you can't go wrong with a trip to Lagos. In addition to being home to many beautiful stretches of coastline - including the pristine Half Beach - Lagos features a number of architectural highlights for travelers who may want to see the region out side its beaches. For instance, the town's iconic walls date back to the 1100s while the Lighthouse of Ponta da Piedade is a unique addition to the seaside community.
Whether you prefer active pursuits, relaxing tours or architectural highlights, it's hard to deny that Algarve has something for everyone.
Recommended Tours
Custom Private Tour
Custom Private Tour
The aroma of dark roasted Viennese coffee hangs thick in the air as you tread the cobblestone laneways and bask in the elegant architecture, atmospheric cafes and refined restaurants in one of the most beautiful cities in Eastern Europe.
More Info
Custom Private Tour
The rhythmic trot of your horse and the soft crunch of your carriage wheels upon cobblestones is a seductive soundtrack to accompany the stunning ancient architecture of Vienna's charming Ringstrasse.
More Info