Add some of Barcelona's lesser-known gems to your Spain tours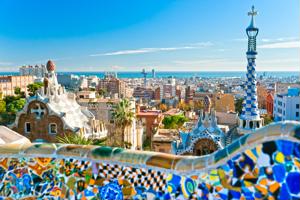 When crafting Spain tours, it's almost impossible not to include a visit to Barcelona. This Catalan hotspot has long been a large tourist draw, and for good reason. Barcelona is teeming with cultural significance, architectural intrigue and some of the best food around. While many of the best-known destinations are certainly worth a visit, if you're hoping to tour some of the less famous landmarks, you might have to do a little digging. There are some hidden gems in Barcelona, and here's a few of them:
Park Güell
This stunning garden complex was designed by the world famous architect Antoni Gaudi and is considered to be among his best works. The neighborhood seamlessly combines landscape elements with beautiful buildings and simply walking through the streets can offer a window into the impressive nature of Gaudi's work. Park Güell also features some unusual pieces including a multicolored mosaic salamander - commonly known as "the dragon" - that rests at the complex's entrance.
El Raval
Though not technically a landmark, the neighborhood of El Raval is undoubtedly a highlight of Spain tours for those who know to add it to their itinerary. Even just walking down El Raval's narrow streets provides you with a glimpse at a cross-section of the Barcelona population. It also has plenty of opportunities for shopping and dining. You should also duck into one of the many bars, which are among the most unique in the city.
Mercat de Santa Caterina
Like many European cities, Barcelona is not lacking when it comes to bustling marketplaces. However, some of them can often become crowded hubs of tourist activity - not ideal if you're looking to avoid throngs of travelers. Luckily, Mercat de Santa Caterina is often less populated but still offers a rewarding experience. Active since the late 19th century, this market is also an appealing destination thanks to its unusual tiled wave-shaped roof.
Magic Fountain of Montjuïc
At more than 80 years old, this iconic fountain has been a stunning highlight of Barcelona for decades. The Magic Fountain of Montjuïc is more than just a water show, however. The performance also features music and lights to create a truly breathtaking spectacle that should surely make its way into your tour of Spain.
Recommended Tours
Custom Private Tour
Gather your courage as you descend into the darkness of the eerie underground cities of Kaymakli and Derinkuyu where Christians fled to escape 7th-century persecution.
More Info
Custom Private Tour
Custom Private Tour
Discover the essence of England through its medieval towns and royal castles steeped in history, as well as its cutting-edge art and innovative cultural scenes.
More Info