Get away from the city during your UK tour with a trip to Windsor Castle and Wales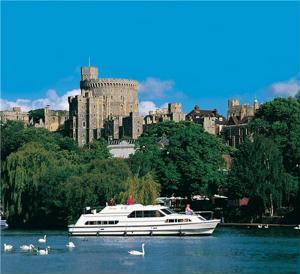 London is undoubtedly the most popular destination for travelers on a tour of England, and it's easy to understand why. The capital has countless landmarks, famous buildings and opportunities to experience English culture. Yet while London is an appealing destination, you should make a point to take the half hour train ride outside the city to visit Windsor Castle, one of the royal family's most famous residences.
The enormous compound contains sections that date as far back as the 11th century, and you can sense the historical importance of the castle around every corner. There are many highlights you can check out during a tour of Windsor Castle, including St. George's Chapel, the Jubilee Garden and the castle's extensive art collection.
While the physical featuresof Windsor Castle are impressive in their own right, the changing of the guard ceremony often attracts the most attention. The event usually takes place each day at around 11 a.m. and the pageantry is even greater than the change of the guard at Buckingham Palace. Anyone who finds the tradition surrounding the royal family interestingcertainly can't miss this spectacle.
Travelers are also drawn to Windsor Castle because it gets them out of the city for a few hours, an opportunity they will also find by taking a tour of Wales as well.Located to the west, the tiny country features a more slow-paced environment than the hustle of London and offers many opportunities to enjoy the natural beauty offered by the United Kingdom.
There are many spots to choose from, but you can't go wrong with a visit to Three Cliffs Bay. Along with the pristine beach along the bay's shores, you can also explore some of the surrounding scenery as well as the ruins of Pennard Castle
Recommended Tours
Custom Private Tour
Custom Private Tour
The aroma of dark roasted Viennese coffee hangs thick in the air as you tread the cobblestone laneways and bask in the elegant architecture, atmospheric cafes and refined restaurants in one of the most beautiful cities in Eastern Europe.
More Info
Custom Private Tour
The rhythmic trot of your horse and the soft crunch of your carriage wheels upon cobblestones is a seductive soundtrack to accompany the stunning ancient architecture of Vienna's charming Ringstrasse.
More Info