Set sail for Montenegro's island resort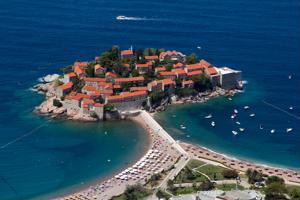 The Adriatic Sea is a sailor's dream, and the best way to take in Croatia's secluded and wondrous coastline. While the beautiful red roof towns of Split and Dubrovnik are obvious gems worth a visit, travelers should be sure to seek out the hidden treasure that is Aman Sveti Stefan, a tiny Montenegro islet village now converted into an alluring resort.
Montenegro is a young nation, having been borne out of the Federal Republic of Yugoslavia's dissolution in 2003. Yet, despite still being in its infancy as an independent state, the history of the people there is quite old. The small island village of Sveti Stefan is one of its more interesting medieval sites.
Fishers, fashion and reformation
The rocky outcropping is situated a mere stone's throw from the mainland, and is connected to it by a thin isthmus, thereby creating two tiny bays on either side of thin strip of land, where boats and yachts are often parked. The image of the island harboring its seafaring vessels is a fitting one, as it started out as a fortified fishing village in the 1400s. For some 500 years it stayed that way, until villagers started moving toward the mainland for different pursuits. In the 1950s the island became a raucous hotel, graced by the elite in royalty, politics, fashion and film, including the likes of famed Italian actress Sophia Loren.
According to the resort, the luxury came to an end with the breakup of Yugoslavia in the 1990s and the onslaught of political unrest. It wasn't until 2005 that the government revitalized the island. Aman resorts took over, soon thereafter, restoring it to its former glory.
The thin bridge
Today, the resort serves as a key destination along the Montenegro coastline, and a worthwhile retreat for those people exploring the busier Croatian cities such as Dubrovnik. Unlike other locales along the Montenegro coast, Aman Sveti Stefan is all about luxury, offering beautiful rooms with a view. Common activities include fine Mediterranean dining, a trip to a spa cottage or, of course, boating in the Adriatic. The climate for the region is also typically Mediterranean, offering temperate weather in the spring and fall, chilly nights in the winter, but beautifully warm days and evenings in the summer. From the island, travelers can explore more of Montenegro, work their way up the Dalmatian coast or set sail for Italian shores.
Recommended Tours
Custom Private Tour
Custom Private Tour
The aroma of dark roasted Viennese coffee hangs thick in the air as you tread the cobblestone laneways and bask in the elegant architecture, atmospheric cafes and refined restaurants in one of the most beautiful cities in Eastern Europe.
More Info
Custom Private Tour
The rhythmic trot of your horse and the soft crunch of your carriage wheels upon cobblestones is a seductive soundtrack to accompany the stunning ancient architecture of Vienna's charming Ringstrasse.
More Info