Sisowath Quay stands out as a top destination during your tour of Cambodia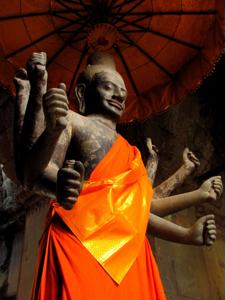 Southeast Asia is full of hidden gems, and that is especially true during a tour of Cambodia. Over the last several decades, the country has become a hotbed of tourist activity, and its capital city of Phnom Penh is testament to that. There are many destinations in the city at you can enjoy, but you should make a point to see the sights and sounds of the Sisowath Quay.
Located along the confluence of three rivers - the Tonle Sap, the Mekong, and the Basaac - this charming stretch has everything you could want during your tour. In addition to the picturesque views of the water, there are numerous highlights to be found as you stroll through the city streets. For instance, you could stop into one of the many cafes or pubs that pepper the streets and have a relaxing meal while you take in the sights.
Among the highlights of Sisowath Quay is a stretch of road known as Street 178. This area is well-known for its many galleries showcasing some of the best art from the city. Street 178 - affectionately referred to as Art Street - is also a popular tourist destination because of the many vendors selling beautiful silk products and other handmade objects. By the time night rolls around, the section is a bustling hub of activity. Whether you want to spend your evening in one of the many pubs or walk around the riverside, there is still plenty to do once the sun sets.
After you've completed your tour of Cambodia, you may want to make your way to a tour of Vietnam. Cambodia's neighbor to the east, there are many highlights to check out, from the town of Tây Ninh to the beautiful Ha Long Bay.
Recommended Tours
Custom Private Tour
Custom Private Tour
The aroma of dark roasted Viennese coffee hangs thick in the air as you tread the cobblestone laneways and bask in the elegant architecture, atmospheric cafes and refined restaurants in one of the most beautiful cities in Eastern Europe.
More Info
Custom Private Tour
The rhythmic trot of your horse and the soft crunch of your carriage wheels upon cobblestones is a seductive soundtrack to accompany the stunning ancient architecture of Vienna's charming Ringstrasse.
More Info