Sleep in a St. Petersburg palace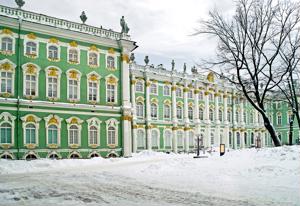 St. Petersburg is a city defined by beautiful squares, ornate, onion-topped cathedrals and grandiose palaces. While not as big or bustling as the nation's cosmopolitan capital of Moscow, travelers can still receive a royal treatment - they need only book a room at the Taleon Imperial Hotel, a former palace dating back more than 250 years ago.
A portrait of the artist's retreat
One of the top sights in St. Petersburg is the Winter Palace, originally commissioned by Empress Elizabeth and eventually finished under the direction of Empress Catherine the Great. Yet, while that palace stands as an iconic landmark, another building served as the royal home before its completion. In 1755, Empress Elizabeth had a wooden residence constructed near the Moika River, which was later presented to the Chief of Police in St. Petersburg by Catherine. He had his own palace built on the site, which eventually became a symbol of Catherine's reign and an architectural treasure of the city, according to the Taleon Imperial Hotel.
Over the years it also became the stage for concerts, masquerades and other cultural goings-on in the city. The building passed hands and turned into a hotel, but continually grew in cultural notoriety, at one point hosting a cultural salon in its Grand Ballroom and at another boasting one of the most modish restaurants in town. It once served as the residence of the Eliseevs, a patron family of the arts, and later turned into a center for revolutionary artists in the 20th century. After years of war and neglect, the building was finally restored in the 1990s, eventually becoming the Taleon Imperial Hotel.
The hotel today
Guests can still bask in the elegant culture of this former palace. Multiple restaurants offer history and tradition in the form of authentic Russian cuisine, while the Griboedov and Atlantes bars provide a place to kick back from cocktail hour until the evening. Those looking for a less formal affair can always head to the Atrium Café.
The accommodations inside the hotel are grand and charming, but its location in St. Petersburg helps make it second to none. Nearby are some of the city's greatest landmarks, including the Winter Palace, the Hermitage Museum, St. Isaac's Cathedral and even the Church of Our Savior of the Spilled Blood - instantly recognizable by its colorful, oddly shaped domes.
Recommended Tours
Custom Private Tour
Gather your courage as you descend into the darkness of the eerie underground cities of Kaymakli and Derinkuyu where Christians fled to escape 7th-century persecution.
More Info
Custom Private Tour
Custom Private Tour
Discover the essence of England through its medieval towns and royal castles steeped in history, as well as its cutting-edge art and innovative cultural scenes.
More Info