Take a walk down some of Paris' best streets during your tour of France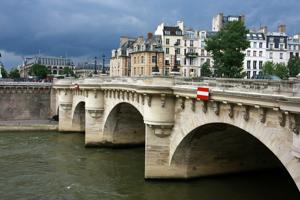 For a city with as many famous attractions as Paris, it's odd to think that simply walking down a street can be a memorable experience in itself. Yet the City of Light is home to many compelling walkways that have become staples of France tours. Of course, it can seem impossible to pare down the list of streets in such a bustling city, but there are a few roads in particular you should make a point to amble down. Here are some of them:
Rue Montorgueil
At just three blocks long, Rue Montorgueil is certainly not the biggest street in Paris, but it is arguably the most unique. Rue Montorgueil is open only to pedestrian traffic, so it takes on an unusual atmosphere you can't find anywhere else in the city. However, the fact that there are no cars isn't the only reason to pay this street a visit. It is replete with cafes, restaurants, wine shops and pretty much everything you need for the quintessential visit to Paris. Additionally, because this street is relatively void of large tourist draws, you can get a taste of what life is like for the Paris native.
Palais-Royal
Located across from the Louvre, the stretch of street in front of the Palais-Royal is ideal for those looking to do some shopping during their time in Paris. Instead of the typical big-name retailers, this street is dotted with 18th century boutiques that are set against the perfect backdrop of the iconic palace. The street is particularly popular among fashion-minded travelers, and it is located near a number of other streets that offer top notch shopping opportunities as well, including Rue St Honoré.
Rue Mouffetard
Considered to be among the oldest streets in Paris, Rue Mouffetard is also among the most active in the city. Its most well-know feature is its permanent street market, which is probably unlike any other open-air shopping center you've ever seen. In addition to street vendor staples such as fresh produce, the Rue Mouffetard market also features specialty items including cheese, fish, wine and meat. Along with its popular market, Rue Mouffetard is also perfect just to walk down. Some of the buildings lining the street date as far back as the ninth century, lending a historical weight to Rue Mouffetard you can't find anywhere else.
Recommended Tours
Custom Private Tour
Custom Private Tour
The aroma of dark roasted Viennese coffee hangs thick in the air as you tread the cobblestone laneways and bask in the elegant architecture, atmospheric cafes and refined restaurants in one of the most beautiful cities in Eastern Europe.
More Info
Custom Private Tour
The rhythmic trot of your horse and the soft crunch of your carriage wheels upon cobblestones is a seductive soundtrack to accompany the stunning ancient architecture of Vienna's charming Ringstrasse.
More Info