Tour the Winter Palace of St. Petersburg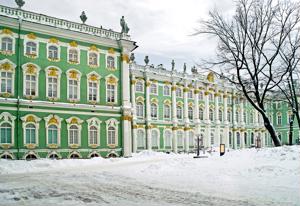 Travelers can take in a tour of St. Petersburg's finest sights any time of year, but it seems only fitting to venture there in the winter so as to catch a view of its grandest estate - the Winter Palace. The centuries-old structure is a work of art on its own, but it also happens to house the Hermitage Museum, home of an expansive collection of masterpieces from around the world.
Art over the decades
The construction of the palace began in 1754, where once stood the residence of Peter the Great, according to Lonely Planet. It was commissioned by Empress Elizabeth Petrovna, who hoped to make a palace as grand and luxurious as other great European palaces. However, the palace was still incomplete by the time Catherine the Great ascended to the throne. Her tastes were more in line with modern fashion - namely, Neoclassicism - and so she hired new architects to complete the plans in the more contemporary style, according to the Hermitage Museum.
Over the years, the palace increasingly became the home of high culture, as Empress Catherine II expanded her private collection. The first addition to the collection was purchased in 1764, and more were added throughout the centuries. The palace is also home to the Hermitage Theatre, which was constructed in 1783. By 1917, the year of the October Revolution, both the palace and the hermitage that housed the art were declared state museums.
Sights within sites
The beauty of the exterior courtyards and facades are a fair match to the exquisite flooring, chandeliers and furnishings of the interior. The entirety of the building, then, serves as a fine accompaniment to the troves of art collections within. Art and artifacts from the antiquities compose a significant portion of the collection, though there are more contemporary works worth seeing, including paintings by the Impressionists and the early Picasso, according to Frommer's.
Recommended Tours
Custom Private Tour
Custom Private Tour
The aroma of dark roasted Viennese coffee hangs thick in the air as you tread the cobblestone laneways and bask in the elegant architecture, atmospheric cafes and refined restaurants in one of the most beautiful cities in Eastern Europe.
More Info
Custom Private Tour
The rhythmic trot of your horse and the soft crunch of your carriage wheels upon cobblestones is a seductive soundtrack to accompany the stunning ancient architecture of Vienna's charming Ringstrasse.
More Info