Make the Andes part of your tour of South America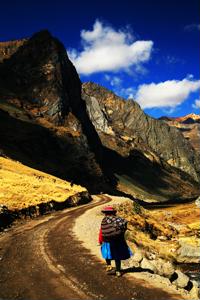 The Andes are arguably the highlight of most South America tours. Whether you're looking for archeological intrigue, stunning views or challenging hikes, it's all there, right at your fingertips. Any trip through this iconic mountain range will undoubtedly bring you to countless memorable destinations, but it can be hard to know exactly what to focus on when crafting your itinerary. However, there are a few cities and natural formations along the way that can't be missed.
Arequipa
The second largest city in Peru, Arequipa is the perfect mix of urban charm and stunning natural landscape. Arequipa's founding dates back to the 1540s, and as a result its city streets are lined with many centuries-old buildings that are worth a visit. The Basilica Cathedral of Arequipa is one such attraction, as it has been a staple of the city nearly since its origins. Other architectural highlights include the Santa Catalina Monastery and the Church of the Company.
While the city's buildings are undoubtedly impressive, it's the surrounding landscape that really makes the trip to Arequipa? worthwhile. There's ample opportunity for adventure travel, whether you want to hike the trails at the base of the snowcapped Mount Misti or explore the thermal hot springs.
Colca Canyon
Situated about 100 miles northwest of Arequipa, Colca Canyon stands as one of the most stunning natural formations in South America, if not the world. In fact, at more than 13,600 feet deep in some spots, it is considerably deeper than the Grand Canyon. Aside from the spectacular views, there are a number of other reasons to pay a visit to Colca Canyon. For starters, it is regarded as one of the best places to see condors. It's also located near the active volcano of Sabancay, which adds some excitement to your trip.
Puno
This city of about 100,000 gives you an opportunity to get a taste of the local culture. Most notably, the city's residents are famous for creating intricately designed, handcrafted products made from alpaca, llama and sheep's wool. Puno also has an ideal location on the banks of beautiful Lake Titicaca. In addition to the lake's distinction as one of the highest bodies of water in the world, it is dotted with numerous islands that are worth a visit including Isla Taquile and Isla del Sol.
Recommended Tours
Custom Private Tour
Your sense of wonder will be found in these lost Incan cities. Explore Cusco, the Sacred Valley, Machu Picchu and Lima without breaking the bank!
More Info
Custom Private Tour
What attracted Theroux, Darwin, Melville and even Butch Cassidy and the Sundance Kid to Patagonia? Come see for yourself.
More Info
Custom Private Tour
Three things come to mind when one conjures an image of Brazil; the adrenaline pulse of world-famous coastal cities, thundering natural wonders, and small estuaries cutting their way through dense tropical forest. On this trip you will see the true highlights of Rio, Iguassu Falls, and the Amazon jungle.
More Info