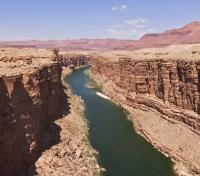 With indescribable panoramas, hikes through sandstone arches, monumental crimson mesas, incomparable wildlife viewing, and riveting ecology, the mighty untamed wilderness of the U.S. National Parks are beyond words. As you enter the gates, there is a feeling of crossing over, of leaving the everyday behind and being enveloped by another world. You are about to witness something big, something majestic.
Throughout Arizona, Utah and Wyoming, an array of magnificent landscapes await you. In Arizona, discover the breathtaking greatness of the Grand Canyon as well as Petrified Forest and the haunting beauty of Monument Valley.
Early visionaries, conservationists and naturalists fought to shield these swaths of land which now protect 85,000 miles of rivers, streams, archaeological sites, mountain ranges, plants and animals. Often referred to as the nation's greatest treasure, and America's best idea, the parks bring us back to nature.
The majesty of the National Parks is not to be missed, which is why your journey with Kensington Tours will be so special – we're here to help you make the most of your travels, so you can see, hear, feel, taste, and learn as much as possible.
View All Tours in Arizona