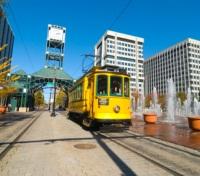 Magic has lived in Nashville, even before the echoes of Johnny Cash and Elvis Presley rang out. This growing city shines brightly as an "it" place to visit, as well as live, work and play. Known as the birthplace of country music, Nashville is well-suited to music lovers, Civil War buffs, foodies and outdoorspeople alike.
Tennessee's capital is located in the north central part of the state, not far from the Kentucky state line. It is a sprawling, green city with its downtown core surrounded by tree-lined neighborhoods. While it is a smaller city, recent growth means its skyline is growing, and it covers a large footprint for a city of its size. Some of the city's biggest attractions, hotels and restaurants overlook the meandering Cumberland River, Broadway and 2nd Avenue serve as the entertainment district, and north of Broadway you'll find the business district, Capitol Hill and the Tennessee Bicentennial Mall. In Music Row, Midtown and 12 South is Vanderbilt University, boutique shopping and live music venues. East Nashville is a hip gentrified area with stylish vintage boutiques, tasty restaurants and offbeat eateries. In Music Valley you'll find The Grand Ole Opry is located in Music Valley, while and many touristy options, while in South Nashville, there are several art galleries, a zoo, and options for international cuisine.
Whether you're a musical pilgrim coming to explore RCA Studio B, the Grand Ole Opry and the complex roots of the country genre, a history buff wanting to walk in the footsteps of a President at the Hermitage, a foodie searching for the perfect soul food or BBQ spot, or a night owl hoping to dance the night away at honky tonks on Lower Broadway, Nashville awaits you.
The creative energy and Southern hospitality of the Music City is an experience to be had, which is why your journey with Kensington Tours will be so special – we're here to help you make the most of your travels, so you can see, hear, feel, taste, and learn as much as possible.
View All Tours in Tennessee