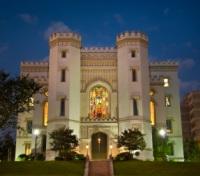 With its combination of Cajun culture, jazz rhythms, exotic history and exuberant merrymaking, New Orleans is unlike anywhere else on earth. The city has made a triumphant climb back to her former glory and is as alive as ever, with the pageantry and exhilaration of Mardi Gras, live jazz at every turn, mouthwatering indigenous cuisine, distinctive Creole architecture and endless celebrations.
Known as the "Big Easy" or "NOLA," this Louisiana city is situated along the Mississippi River in the southeastern region of the state. It serves as a major port and economic hub for the Gulf Coast. In the French Quarter, you'll find the infamously wild Bourbon Street, and beyond it, an aged elegance of iron lamps, historic homes, the riverfront of the Mississippi, and a few galleries. To the south, Faubourg Marigny and Bywater are neighborhoods (or faubourgs) which, now more gentrified, still reveal their roots as a magnet for artists and creative types. In the Central Business District and Warehouse District, you'll find some of the best museums, restaurants and art galleries. In Garden, Lower Garden and Central City, admire tree-lined streets and grand houses. In Uptown and Riverbend, jaw-dropping mansions with incredible architecture decorate St. Charles Avenue. Mid-City and Bayou St. John were once an area of swampy lowlands but are now lovely districts with green spaces like City Park, a St. Louis Cemetery, a sculpture garden and elegant mansions. If you're looking for live jazz, the roots of the genre and the cultural pulse of the city, you'll find it in Tremé-Lafitte, where jazz was invented.
Whether you're looking forward to listening to the old-fashioned clang while riding the St. Charles Avenue streetcar, plan on high-stepping behind the band and dancers on Sundays (outside of summer) in a "Second Line," want to wander among the whitewashed tombs at a St. Louis Cemetery, or search for alligators amidst winding bayous and old-growth cypress trees, "N'Awlins" welcomes you with open arms.
New Orleans is one of a kind, which is why your journey with Kensington Tours will be so special – we're here to help you make the most of your travels, so you can see, hear, feel, taste, and learn as much as possible.
View All Tours in Louisiana