Take in Hong Kong from Victoria Peak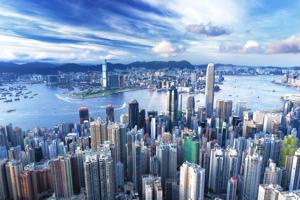 One of the best ways to see Hong Kong is from Victoria Peak, which provides an amazing view of the city below and the South China Sea just beyond. Trams, walking paths and observation decks all provide different experiences from which to experience the vista, while the Peak Tower gives you a place to rest, dine and shop.
Take the tram
Over a century ago, people made it up the 1,286-foot-tall peak on sedan chairs carried by manual laborers, according to Frommer's. The Peak Tram started hauling travelers up the slope of the hill in 1888, and has since become one of the best ways to take in the city. The climb up the mountain is almost vertical, and may at times feel surreal as the tram slowly rises above the city's many skyscrapers. After 8 minutes, the tram reaches the Peak Tower at top of the hill and the harbor pulls into full view. While the steepness of the journey may be harrowing for some, the tram has never once been in an accident.
Go for a hike
If the tram seems too menacing, there is always the opportunity to walk along a series of roads to the peak. The trek is steep and exhausting, but eventually passes the Zoological & Botanical Gardens, a nice detour on the way to the top. Whether having walked or taken the tram, travelers can then take a stroll along a path that rings around the summit. Along the way is a lookout that provides a broad view of Victoria Harbour. Eventually, walkers will reach a tree-shade path that works its way back to the Peak Tower. If the walk is done in reverse, about 90 minutes before sunset, travelers will reach the lookout point just as the sun begins to sink, casting the city in brilliant light, according to the Hong Kong Tourism Board.
Stand at the top
For unparalleled views, travelers can head into The Peak Tower, a modern building with a wok-shaped roof. The oddly-topped structure houses a market, restaurants, souvenir stores, a historical gallery and, above all, an observation deck. The vista is 360 degrees, providing views not just of the city and its harbor, but of the surrounding topography. Travelers may want to head to the observation deck, before making the trek down, stopping at a restaurant along the way.
Recommended Tours

Custom Private Tour

Custom Private Tour
Take in awe-inspiring vistas in Halong Bay as you practice Tai Chi on the deck of a luxury cruise ship at sunrise.
More Info

Custom Private Tour