Get away from the crowds during your tour of Spain with a trip to Cadiz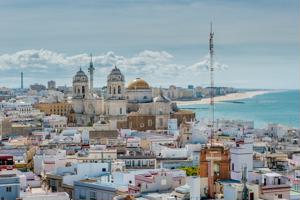 A tour of Spain is likely to bring you to a large number of destinations that are populated with international visitors. Madrid, Barcelona and Toledo are all popular cities among travelers the world over, and while that does not make them any less appealing, sometimes it can be nice to get away from throngs of tourists. If you're looking for a destination that may get overlooked, it's often wise to seek out where locals go, and when it comes to Spain tours, the coastal gem of Cadiz is the place to be.
Plenty of plazas
Spanish cities are replete with public squares that are often buzzing with activity, and Cadiz is no exception. There are seemingly countless plazas spread throughout the city, each with its own unique appeal and landmarks. For instance, as its name suggests, Plaza de la Catedral is home to the famed Cadiz Cathedral. This stunning piece of architecture took more than 100 years to build when it was finally completed in 1838. Aside from being an impressive building to admire from afar, Cadiz Cathedral also offers visitors the chance to climb its Poniente Tower, which offers stunning views of the city.
Carnival of Cadiz
Although it may receive fewer tourists than some of Spain's more famous cities, that's not to say it is devoid of activity, and the Carnival of Cadiz is certainly testament to that. The celebration takes place over the course of two weeks - typically in February and early March - and features clever costumes, elaborate musical productions and heated competitions. It's hard not to get swept up in the festivities if you find yourself in Cadiz during the celebration.
Beautiful beaches
Thanks to its location along the southwestern corner of Spain, Cadiz is home to some of the best beaches in the country. It's certainly difficult to find a bad stretch of coastline in the city, but if you're looking for the top option then La Caleta is your best bet. It may be the smallest of the city's beaches, but La Caleta stands above the rest not only because of its crystal-clear water and pristine conditions, but also because of its scenery - it is situated between the San Sebastián and Santa Catalina castles.
Recommended Tours

Custom Private Tour
Gather your courage as you descend into the darkness of the eerie underground cities of Kaymakli and Derinkuyu where Christians fled to escape 7th-century persecution.
More Info

Custom Private Tour

Custom Private Tour
Discover the essence of England through its medieval towns and royal castles steeped in history, as well as its cutting-edge art and innovative cultural scenes.
More Info