Go off-piste in the Vallée Blanche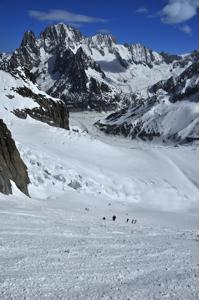 The French town of Chamonix is a famed mountaineering and skiing destination. It is also the last stop for skiers descending one of France's best ski runs. The Vallée Blanche is a 12-mile off-piste course that's as memorable for its breathtaking views as it is for the day-long descent.
Vallée Blanche is French for white valley, and its an apt name for a region that offers stunning panoramas of the French, Swiss and Italian Alps. The pinnacle of the region and the starting point of the ski route is the Aiguille du Midi, a needle of rock thrusting defiantly over the other peaks. To reach it, travelers must take a cable car from Chamonix. The height, thousands of miles above sea level, can be dizzying, but once skiers get a handle on their surroundings, they're probably not wont to leave anytime soon.
To get to the ski route itself, skiers must make a brief hike along a ridge to the starting point. From there, it's an hours-long ride down the mountain that can be done alone or with a guide. According to chamonix.net, there is a mountain hut where weary skiers can stop for food and drink before finishing the trip. Once in Chamonix, skiers can kick back and relax or else start planning a mountaineering trek for the next day.
Recommended Tours

Custom Private Tour
Gather your courage as you descend into the darkness of the eerie underground cities of Kaymakli and Derinkuyu where Christians fled to escape 7th-century persecution.
More Info

Custom Private Tour

Custom Private Tour
Discover the essence of England through its medieval towns and royal castles steeped in history, as well as its cutting-edge art and innovative cultural scenes.
More Info