Include TripAdvisor's 'Best Beach' in your tour of Sicily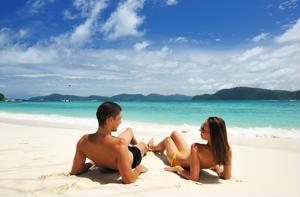 For some travelers, relaxing on the beach is the most memorable part of their vacation. And who could argue? A beautiful stretch of coastline is hard to beat. TripAdvisor recently conducted a poll to see which beaches its users thought were the best. After poring over millions of reviews from tourists and experts, the website found that travelers cited Italy's Rabbit Beach as the best in the world.
The beach is located on the tiny island of Lampedusa, which can be included in a tour of Sicily, and has earned acclaim for being relatively unspoiled. Its pristine white sand and crystal clear Mediterranean waters are as good as any beach you'll find from Hawaii to Australia to California. Experts from TripAdvisor were not surprised with the results given the stunning natural appeal of the beach.
"Rabbit Beach's is clearly a big hit with travelers and it's easy to see why with its stunning turquoise water and white sand," the website's spokesperson Emma Shaw told Reuters.
Although many people may not have heard of Rabbit Beach, it was certainly a hit among those who responded to the TripAdvisor poll. Still, the remote piece of coastline was not the only beach to earn acclaim from the travel website. Landing in second place was Grace Bay, which is located in Providenciales, a tiny island in Turks and Caicos. Australia's Whitehaven Beach, which is often cited as the best in the world by other sources, landed in third. Brazil's Baia Do Sancho and Puerto Rico's Flamenco Beach rounded out the top five.
While you will certainly want to visit Rabbit Beach, there is much more to do in the area than spend all your time in the sand. A tour of Sicily offers many unique experiences you won't find anywhere else. Like much of Europe, there are many buildings that date back centuries(awkward, reword) located on the tiny island, and one of the best is The Cathedral of Monreale. The stunning church was built in the 12th century, when it was built by William II, and many experts consider it to be one of the best examples of Norman architecture in the world. Other standout destinations include the church of Santa Maria dell'Ammiraglio and San Giovanni degli Eremiti.
Recommended Tours

Custom Private Tour
Gather your courage as you descend into the darkness of the eerie underground cities of Kaymakli and Derinkuyu where Christians fled to escape 7th-century persecution.
More Info

Custom Private Tour

Custom Private Tour
Discover the essence of England through its medieval towns and royal castles steeped in history, as well as its cutting-edge art and innovative cultural scenes.
More Info