Make visiting the Cyclades part of your tour of Greece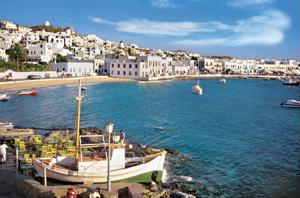 Greece tours offer travelers a wide variety of opportunities for exploration. Whether you're interested in checking out the archeological sites, pristine beaches or world famous cuisine, there truly is something for everyone. This is especially true in the Cyclades, a group of small islands in the southernmost region of Greece that is one of the most popular destinations in Europe.
Mykonos is perhaps the most well-known of the islands, and for good reason. Though just under 41 square miles in size, the tiny island is home to everything that's appealing about Greece, from the beautiful gentle coast and iconic architecture to the rich history that's evident around every corner. Before you leave Mykonos, be sure to visit the Church of Panagia Paraportiani, which dates back to the 17th century, is among the most famous buildings in Greece thanks to its instantly recognizable whitewashed walls. If you're looking for a more relaxing experience on Mykonos, Elias Beach offers a pristine view of the Agean Sea. 
Since the Cyclades are located so close to one another, it's easy to visit several of them during your tour of Greece. After you've explored Mykonos, you might want to head over to Santorini, A little smaller than Mykonnos, Santorini stands out from its fellow islands largely because of its thriving wine industry. 
Sipping wine on Santorini or relaxing on the beach at Mykonos may inspire you to prolong your vacation, and you might want to do so by transitioning to a tour of Turkey. Istanbul is located a short distance from the Cyclades and is one of the most multicultural cities you'll get to visit, whether you're touring the famous Galata Tower or Sultan Ahmed Mosque
Recommended Tours

Custom Private Tour
Gather your courage as you descend into the darkness of the eerie underground cities of Kaymakli and Derinkuyu where Christians fled to escape 7th-century persecution.
More Info

Custom Private Tour

Custom Private Tour
Discover the essence of England through its medieval towns and royal castles steeped in history, as well as its cutting-edge art and innovative cultural scenes.
More Info