Porto's architecture is a highlight of Portugal tours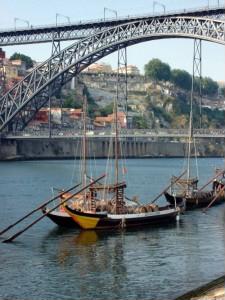 For a small country, a tour of Portugal manages to include some of the most intriguing destinations in Europe. In addition to the capital city of Lisbon, the country's second-largest city, Porto has plenty to offer as well. Whether you want to sample its famous wine, visit its legendary churches or simply enjoy the gothic atmosphere that permeates every walkway and street, Porto is certainly a city you won't soon forget. 
Much of Europe is replete with centuries old churches, and Porto is no exception. Most notably, you'll want to visit the iconic Porto Cathedral, which is located in the heart of the city and dates as far back as 1100. The church deftly blends elements of Baroque, Gothic and Romanesque architecture to create one of the most unique structures in Portugal. 
While Porto Cathedral is certainly impressive in its own right, its location in the middle of the city makes it easy to get to other tourist hotspots. In particular, you can quickly make the jump to Rua de Dom Hugo, a street that is peppered with a number of interesting destinations ranging from the palace-museum Casa-Museu Guerra Junqueiro as well as the Chapel of Our Lady of Truths.
If walking the street of Porto piqued your interest in European architecture and history, you should consider crossing the border and moving on to a tour of Spain. Much like its neighbor to the west, Spain is heavily populated with cities that speak to the country's lengthy history. In Madrid, you can visit the enormous Royal Palace, which dates back to the 1750s, or head further east and explore the coastal beauty of Valencia and its famous central market. 
Recommended Tours

Custom Private Tour
Gather your courage as you descend into the darkness of the eerie underground cities of Kaymakli and Derinkuyu where Christians fled to escape 7th-century persecution.
More Info

Custom Private Tour

Custom Private Tour
Discover the essence of England through its medieval towns and royal castles steeped in history, as well as its cutting-edge art and innovative cultural scenes.
More Info